Apex Legends Lead Writer Reveals the Fate of Mystery Mirage Heirloom Animation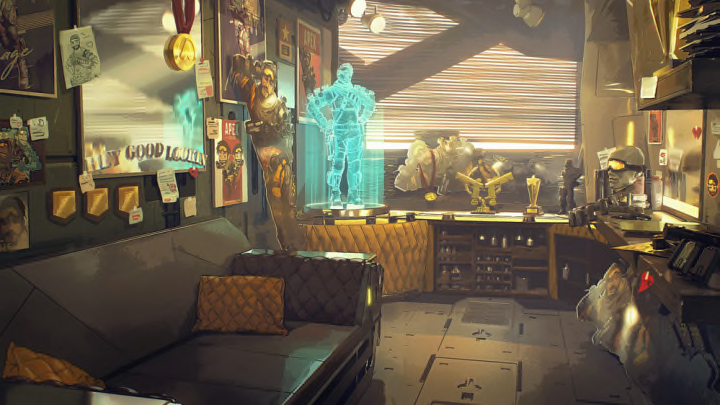 The lead writer for Apex Legends has revealed what happened to the mystery Easter Egg heirloom animation missing from Mirage. / Respawn Entertainment
The lead writer for Apex Legends has revealed what happened to the mystery Easter Egg heirloom animation missing from Mirage.
According to players, Mirage's heirloom inspection has been missing animation for quite some time. Since its release in late June 2020, Mirage's golden trophy melee weapon, "Too Much Witt" has been the subject of discussion in the community. This is allegedly due to a missing animation/emote regarding the Legend's family. Now, Apex Legends lead writer, Manny Hagopian (@MannyHagopian) has come forward with an answer.
The conversation started with a tweet from Apex Legends lead animator, Moy Parra (@_moyparra) showing off a picture of Mirage and his mother and stating that they "need more lore from them."
This sparked a response from credible dataminer, KralRindo (@KralRindo), wondering "out loud" in a reply about "what happened to that secret 'mirage heirloom easter egg' devs talked about." They're, of course, referring to a rumored heirloom inspection animation that featured Mirage pulling out a picture of his family.
Finally, Hagopian chimed in, offering an answer to what happened to the mystery "Easter egg."
"It was actually supposed to be [Moy Parra's] picture or the picture of Mirage and his family as a kid (the one in the lore book) but it apparently never made it in the game for some reason. The plan was to have it hidden on the trophy that you see randomly during rare inspections," he wrote.
KralRindo replied that this explanation makes sense since the family photo does appear alongside the trophy's in-game model.
Fans were quick to chime in, both crafting their own theories as to why the decision to not include it was made and requesting that Respawn Entertainment finally add the photo into the game. Unfortunately, whether or not Respawn will reconsider their decision remains to be seen.