Apex Legends
Apex Legends Prey Collection Event Arrives Sept. 20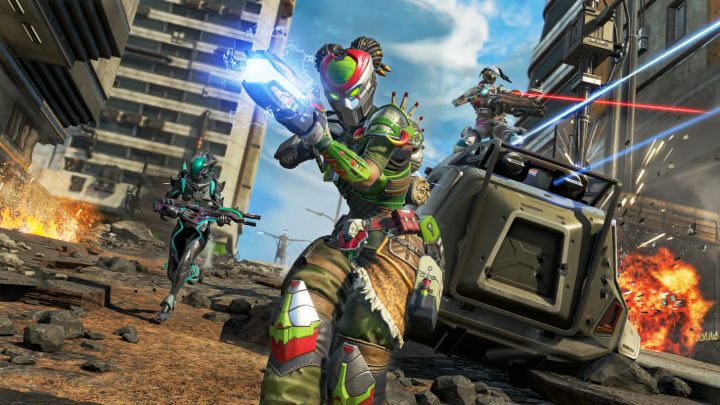 Photo courtesy of Respawn Entertainment
Apex Legends is seeing another collection event themed around the hunter and its prey. Players will be ecstatic to learn they can unlock Loba's heirloom as well. But the 24 new cosmetics and heirloom aren't the only things on the docket. Respawn Entertainment also introduced a new game mode called Gun Run.
Apex Legends Prey Collection Event LTM Gun Run
"Go head-to-head against three other squads in a race to master a wide range of weapons. Each time you get a kill with a weapon, you leapfrog over teammates and are given the next highest weapon on the track. Play as a team and get through the track as fast as you can, with some help from infinite ammo, health items and automatic respawns."
"The final weapon in the track is a new exclusive throwing knife, which will be available in the firing range for practice during the event. Work together as a team and be the first squad to score a kill with the throwing knife to win the match! Gun Run will be available to play starting Sept. 20 to Oct. 4 on Skulltown and Fragment East (World's Edge) maps."
Besides the new content plan, Respawn is also using this opportunity to fix bugs and balance some things.
ARENAS

Increased cost for Hammerpoint Rounds for Mozambique

White: 100 -> 150

Blue: 200 -> 250

Purple: 500 -> 700



RAMPART
Sheila now inherits sensitivity settings for the most similar optic sens level

2x - Mobile Sheila zoom

3x - Mounted Sheila zoom



BUG FIXES AND QUALITY OF LIFE
[Vantage] - Fixed a bug with Vantage's "Whittle Break" emote where it would lay flat on the ground instead of sitting upright.

Fixed a bug where the display showing Bocek Compound Bow arrow ammo was inconsistent.

[Vantage] - Fixed bug where using Vantage's tactical inside Wraith's Portal could cause the player to stay in flight and the tactical goes on cooldown.

Out of Bounds timer will now start once the player has touched the ground when landing out of bounds.

[PS5 ONLY] - Increased scroll speed in menus.

Fixed a bug where Shield Cells would display the incorrect amount of healing available while taking damage.

[Newcastle] - Fixed bug where Ultimate continues flight even after Newcastle has been downed.

[Control Mode] - Fixed bug where if a player exits the game while the map is loading they are unable to choose a spawn location after reopening the game.

[Control] - Fixed bug where players could not capture Control points while phased.

[Storm Front map] - Removed ability to tap-strafe on Gravity Cannons.