Apex Legends
Apex Legends: Saviors: All Balance Changes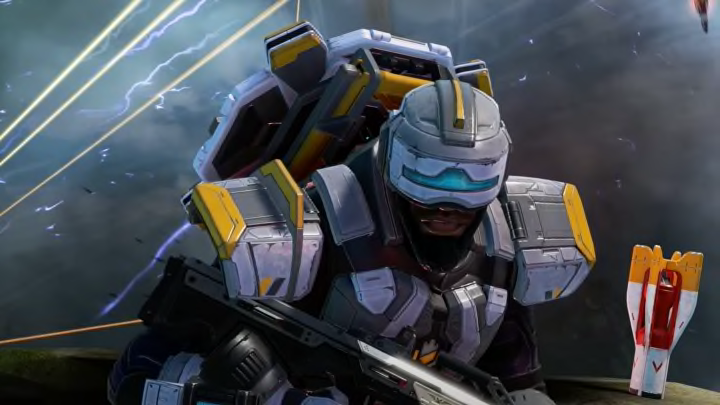 Image courtesy of Respawn Entertainment
Apex Legends latest season, Saviors, is here. We've listed all of the balance changes that have been rolled out in the new update.
Apex fans have been itching to get their hands on the game's newest Legend. Newcastle has entered the fray with his powerful shield abilities, ready to defend his teammates. Of course, Newcastle isn't the only new feature in Season 13. Storm Point has been given an overhaul, adding in a brand new POI - the Downed Beast. 
There's plenty to get to grips with in this latest update. But below, we've detailed all of the balance changes that players will need to take note of.
All Balance Changes in Apex Legends Season 13: Saviors
Fortified Legends
Fortified no longer reduces headshot damage
Crafting Rotation
Flatline & Longbow coming out and are now floor loot
Rampage & R-301 going into crafter
Gold Weapons
EVA-8, Bow, Flatline, P2020, Spitfire
Helmets Buff
Blue helmet headshot damage reduction increased from 40% to 50%
Purple helmet headshot damage reduction increased from 50% to 65%
Kraber
Headshot multiplier down from 3.0 to 2.0
Damage reduced from 145 to 140
Rampage
Increased reload time from  2.6 to 3.1
Slightly increased handling times
LSTAR
Reduced headshot damage multiplier from 1.75 to 1.5
Reduced headshot distance from 64m to 57m
Overheat cool-off time increased from 2.5 to 3.6
Slightly increased handling times
Devotion
Damage reduced from 16 to 15
Reduced headshot damage multiplier from 1.75 to 1.5
Reduced headshot distance from 64m to 57m
Increased reload time from 2.8 to 3.2
Draw time increased to 0.8 from 0.7
Holster time increased to 0.75 to 0.65
Raise time increased to 0.65 from 0.55
Lower time increased to 0.6 from 0.5
Havoc
Improved recoil at the start of the pattern
Dual Shell
Removed from floor loot and crafting bundles
Mozambique & Peacekeeper
Increased limb damage from 0.8 to 1.0
Crate Weapons
Spitfire back to floor loot 
Mastiff into crate
Spitfire
Damage decreased from 19 to 18
Purple & Gold Magazine capacity reduced from 55 to 50
Crouched hipfire spread increased
Removed barrel attachment slot
Reduced headshot damage multiplier from 1.75 to 1.5
Reduced headshot distance from 64m to 57m
Increased reload time from 3.2 to 3.4
Draw time increased to 0.8 from 0.7
Holster time increased to 0.75 to 0.65
Raise time increased to 0.65 from 0.55
Lower time increased to 0.6 from 0.5
Mastiff
Tightened blast pattern
Ammo capacity reduced from 6 to 4
Stockpile ammo: 28
Damage per pellet increased from 11 to 14
Increased pellet size
Fire Rate increased from 1.1 to 1.2
Cells & Syringes
Cells and Syringe spawn rates have been lowered by about 18%
Rampart Improvements
Sheila spin-up time decreased from 1.75s to 1.25s
Amped Cover deploy health increased from 45 to 120
Amped Cover deploy time decreased from 4.25 to 3.6
Valkyrie
Can no longer freely spin while launching during Skyward Dive
Out of Bounds
When going out of bounds the following will be disabled:
Legends Abilities
Weapons, Ordinances and Survival Items
Healing items (Will not cancel mid healing)
All Active Passives (e.g. Valks Jet Packs)
World's Edge
Redesigned windows at Lava Siphon's Control Tower to focus sightlines
Added some additional cover around Lava Siphon's Lava Pit
Gondola loot has been tweaked. The chances of finding high-tier armor in them have been notably reduced. Climatizer and Lava Siphon will still remain as High Tier Loot POIs