Apex Legends Season 10 Map Rotation: What's New?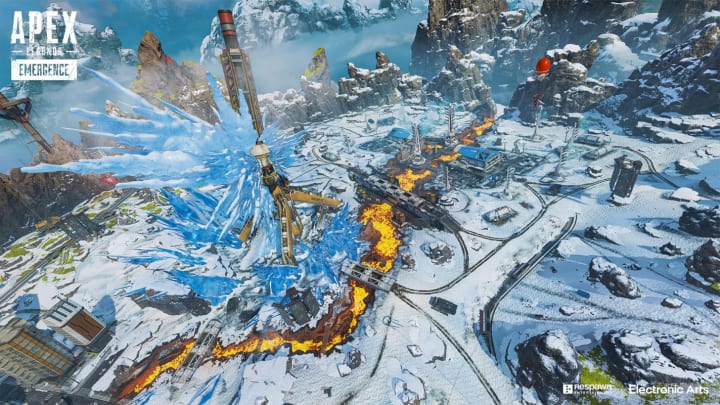 Here's everything you need to know about the Season 10 map rotation in Apex Legends: Emergence. / Photo courtesy of Respawn Entertainment
The new Apex Legends Season 10 map rotation is here for Emergence, shaking things up in terms of what players should expect to queue up for in the coming weeks.
With World's Edge undergoing a metamorphosis in which Respawn Entertainment aimed to introduce "fun, fresh" new gameplay spaces and experiences while keeping its original design philosophy as much as possible, the same can be similarly said for the new Season 10 map rotation for Apex Legends: Emergence.
Apex Legends Season 10 Map Rotation: What's New?
In Emergence, Apex Legends' three battle royale maps remain in the unranked rotation with Kings Canyon, World's Edge, and Olympus. However, while only two of the three maps were in rotation at a time for regular matches in previous seasons, all three maps are currently in rotation for pubs for the first time ever in Season 10.
Although World's Edge has been the only playable unranked map since the new season launched on Aug. 3, the other two maps have now joined the rotation, and will run for about one to two hours before being swapped out.
In battle royale ranked, the map rotation remains centered around the mid-season split. While World's Edge remains the only map used for ranked at the moment, on Sept. 20, the second split will commence and Kings Canyon will take its place with the soft reset.
With the all-new Ranked Arenas mode, the map rotation will change once every hour and will share the same overall map schedule as unranked Arenas. Party Crasher, Phase Runner, and Overflow will be in rotation along with one new Emergence BR location that changes every two weeks:
King's Canyon: Hillside
World's Edge: Dome
Olympus: Oasis
For more on Apex Legends, feel free to check out our coverage of leaks revolving around the upcoming Rampart Town Takeover Event.