Apex Legends
Apex Legends Season 11: Escape Gameplay Trailer Revealed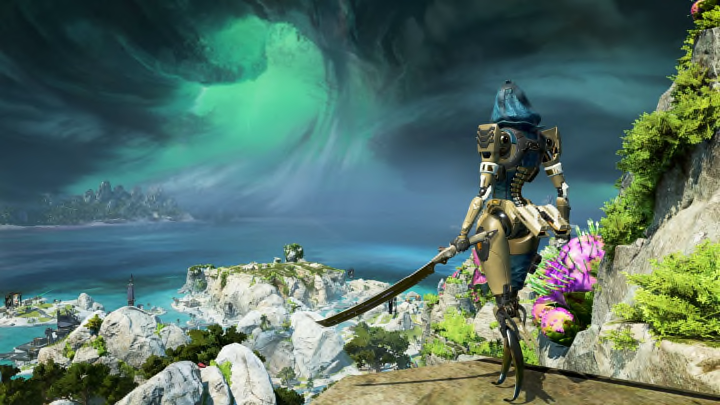 Respawn Entertainment released the latest trailer for the next season of Apex Legends—Escape. / Respawn Entertainment
Respawn Entertainment released the latest trailer for the next season of Apex Legends—Escape.
The video dropped on the official Apex Legends YouTube channel on Monday, Oct. 25. Not only did fans get to see simulacrum, Ash, in action, they were also treated to a preview of the long-awaited "Tropics" map—now confirmed as "Storm Point." They were also able to see the C. A. R. SMG in action, blowing opponents away with a few well-placed clicks.
Apex Legends Season 11: Escape Gameplay Trailer Revealed
We've broken our recap of the trailer down into two major categories: Ash and the new map, Storm Point.
New Legend: Ash
Players finally have a grasp on the abilities Ash may have in her kit thanks to this trailer. The simulacrum will feature an AoE ability that physically tethers certain legends to a specific radius—making them much easier to shoot. It is currently unclear whether this can catch all legends within the immediate area of if it is specific to the first individual crossing the field.
Her ultimate—or, at least, what fans assume to be her ultimate—allows her to use her sword and tear open a hole in reality. She uses this planar rift to travel to another area on the map, several meters away, and reappear where her opponents least expect her.
Ash will also have a finishing move with that same sword, slicing up into her opponent's abdomen and, in one fluid motion, taking one pace behind them and stabbing the blade behind her into their back.
New Map: Storm Point
Storm Point is located on the planet Gaea and known for its tropical, island atmosphere. It does, of course, have several of the earmarks associated with the Apex Games, including unique facilities, launch pads, ramps, and more.
Players will be able to pilot their very own cruiser on the island and engage in large-scale car chases as they zip across the map. In the trailer, we saw one such chase end thanks to Wattson's fence, which took both the legend and their vehicle out of commission.
Those looking to explore the scenic sights of Storm Point should also have no problem doing so—well, for the most part. Dangerous creatures lurk in the wilds, including packs of vicious, hungry Prowlers, colonies of Bin Spiders, and the ever-vigilant Flyer gazing down from above. Players may find themselves quickly at the mercy of these beasts long before an opponent can shoot them down.
Season 11: Escape is set to launch on Nov. 2.