Battlefield Portal Unveiled at EA Play Live 2021: Full Details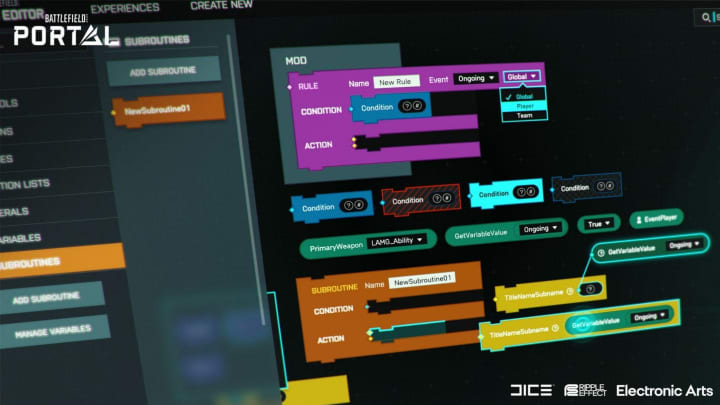 The sandbox experience will launch alongside Battlefield 2042, DICE's latest installment of its first-person shooter franchise, on Oct. 22, 2021. / Photo courtesy of DICE
Battlefield Portal was perhaps the crown jewel of the several major announcements made during the EA Play Live 2021 presentation, bringing to players something never seen before from the DICE franchise.
When Battlefield 2042 launches this fall, it will hope to deliver on three "epic" experiences. First and foremost is its trademark all-out warfare. Secondly is Hazard Zone, which DICE is scheduled to show off later this year. The third and final of the three had yet to be announced, until Thursday.
Revealed as the brain child of the developer team for over a decade, DICE General Manager Oskar Gabrielson detailed the brand-new innovative experience driven by community feedback—Battlefield Portal.
Battlefield Portal Unveiled at EA Play Live 2021: Full Details
Battlefield Portal is a community-driven experience designed to give players an extensive slate of customization options, as well as the in-depth logic editor and tools previously only available to the franchise's designers, in order to create game modes tailored to their hearts' desires.
Inviting players to get "pretty wild" with what they can accomplish, the sandbox/level builder hybrid allows players to use maps, weapons, vehicles and gear not only from Battlefield 2042, but from Battlefield 1942, Battlefield: Bad Company 2 and Battlefield 3 as well.
There will be 13 maps available for use in Battlefield Portal, seven from Battlefield 2042 and six fan-favorite maps rebuilt from the ground up using the latest version of the Frostbite engine for modern, hi-def quality.
Orbital (BF 2042)
Hourglass (BF 2042)
Kaleidoscope (BF 2042)
Manifest (BF 2042)
Discarded (BF 2042)
Breakaway (BF 2042)
Renewal (BF 2042)
Battle of the Bulge (BF 1942)
El Alamein (BF 1942)
Arica Harbor (BF BC2)
Valparaiso (BF BC2)
Caspian Border (BF 3)
Noshahr Canals (BF 3)
Battlefield Portal will be available on day one at the launch of Battlefield 2042 with its sharing platform, as well as a handful of pre-made modes ready for players to try out.
On the live show, DICE General Manager Christian Grass shared three Battlefield Portal playlists already created by content creators in the community—"VIP Fiesta" by CourageJD, "Quality vs. Quantity" by Gabytron, and "Robotman" by [Redacted].
Lastly, XP progression will be shared between Battlefield 2042 and Battlefield Portal, which means players will be constantly leveling up their their rank and Battle Passes no matter how they choose to play.