Best Finishing Badges in NBA 2K22: Which to Use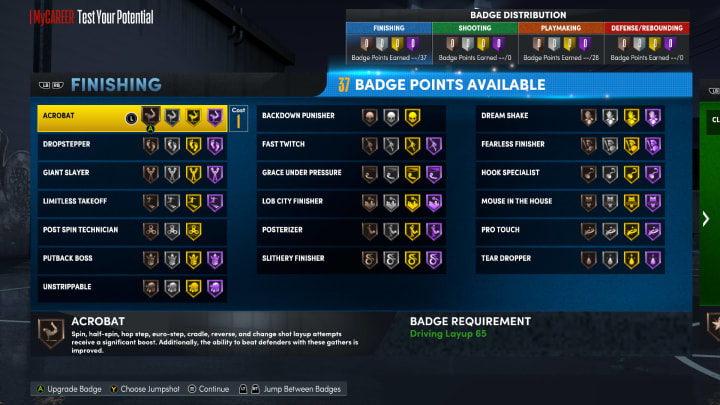 Here are the best Finishing Badges to use in NBA 2K22 MyCareer on Current Gen and Next Gen. / Photo courtesy of Ralston Dacanay, 2K
For those looking to be able to get to body bag help defenders under the rim consistently in NBA 2K22, it is important that you equip and upgrade the best Finishing Badges available for your build.
Although having the right layup and dunk animations is one-half of the battle, it can mean next to nothing if your MyPlayer doesn't have the right Badge setup. Here are the best Finishing Badges to use in NBA 2K22 MyCareer on Current Gen and Next Gen.
Best Finishing Badges in NBA 2K22: Which to Use
Here are the best Finishing Badges to equip for your MyPlayer in NBA 2K22, ranked in order of upgrade priority for those still in the middle of the Badge grind:
Limitless Takeoff
Posterizer
Slithery Finisher
Fearless Finisher
Unstrippable
Mouse in the House
Giant Slayer
Acrobat
Lob City Finisher
Putback Boss
Rise Up
Fast Twitch
Grace Under Pressure
Pro Touch
Tear Dropper
Post Spin Technician
Dropstepper
Backdown Punisher
Dream Shake
Hook Specialist
To highlight some of the higher-tier Defensive Badges in the game, I'm going to start with the category's Top 2 Badges — Limitless Takeoff and Posterizer. Before I get grilled for putting a brand-new Badge on top of Posterizer, I'd like to emphasize that these two are more like 1A and 1B, going hand in hand with one another. The reason why Limitless Takeoff is slightly ahead is that regardless of if you have contact dunks, whether your build can't get them or you simply do not have enough VC to equip them, this new Badge allows you to begin your animations like Michael Jordan and LeBron James. Meanwhile, for those who are slashers with the best contact animations in the game, Posterizer remains the cream of the crop in allowing you to maximize your potential inside.
These next three Finishing Badges all help you do what you need to do in the paint. Slithery Finisher helps you get animations that keep you from getting blocked, Fearless Finisher helps you get more contact dunks and Unstrippable protects you from losing the ball.
For more on NBA 2K22 MyCareer, feel free to check out our guides on how to get the Gym Rat Badge and the Mamba Mentality Badge, as well as the best Defensive/Rebounding Badges to use.