Best Heroes to Partner With Sojourn in Overwatch 2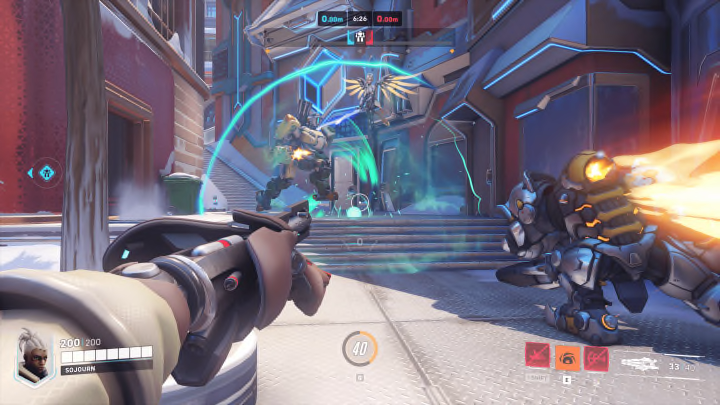 Pairing Sojourn up with a Tank would do well to balance out a Tanks short range and slow movement / Courtesy of Blizzard
As the first major hero to enter into Overwatch 2's limelight, Sojourn has some pretty big shoes to fill. Fortunately, she seems to have been a hit with fans, and has been hotly anticipated for the PVP Beta coming out in a few days. However, with the release closing in, some are wondering which heroes pair best with Sojourn. Here's a few ideas to try out when Sojourn releases during the beta.
Best Heroes to Partner With Sojourn in Overwatch 2
Sojourn is primarily a fast, well rounded DPS character that can do both AOE or high burst damage to a single target.
Thanks to her high movement speed, there are a few support characters who can do a good job of healing her should she need it. Ana is a great choice, as her long range shots can heal from a great distance, providing she has good line of sight with Sojourn. Zenyatta is also a good pick as he can toss her an Orb of Harmony and be done with it for awhile.
In terms of pairing with Tanks, she would be best used to complement a Tank's weakness, primarily one with short range and low movement ability. Roadhog is an excellent choice, due to his high burst damage at close range, and slow movement ability making him vulnerable to snipers and other assailants. D.Va is a good pick as well, with her cannon making a short range frontal assault lethal, with Sojourn acting as a backup to mop up any remaining enemies, or to flank fi an enemy shows a weakness in their ranks.
Finally, in terms of DPS heroes, the best fit would be ones that can move just as fast as her. Both Tracer and Hanzo are excellent fits if one wants to move as quickly as possible, and help flank an enemy. However, should one want to play a bit more deceptively, they could always back up a Symmetra or Torbjorn, and help lure an enemy into a trap before dishing out a ton of damage on the weakened enemies.
Overall, Sojourn's abilities will need to be tested in-game before anyone can scope out a proper meta. However, on pure speculation, there are quite a few options for those entering the beta, wanting to have a set plan before they go in.