Best OTs 9 Loadout in Warzone Season 5: Which Attachments to Use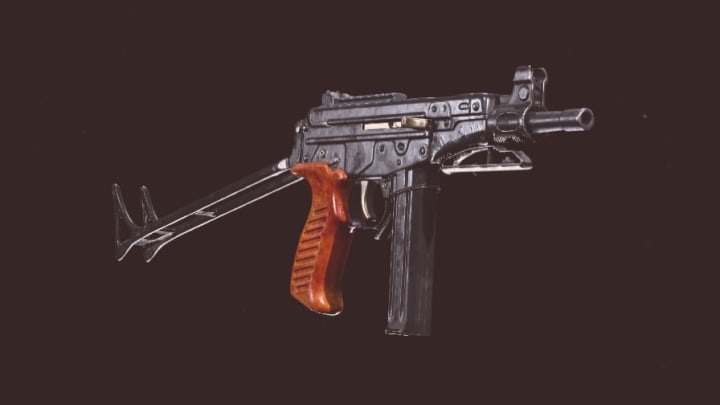 Here are the best attachments to use on the OTs 9 SMG in Call of Duty: Warzone Season 5. / Photo courtesy of Ralston Dacanay, Activision
This best OTs 9 loadout in Warzone Season 5 guide is here for those who want to make sure they're using the fully optimized version of the top dog SMG in Verdansk '84 and Rebirth Island.
One of our newest S Tier-rank weapons to use, the OTs 9 is primed to take over the Season 5 meta. Although it isn't all that popular yet with the more casual player base, it has already taken over the competitive Warzone scene. Despite having a maximum of only 40 bullets with the highest capacity ammunition attachment on, its sheer damage output and swift handling package is unmatched up close, especially after the MP5 (MW) nerf. Here are the attachments to use for the best OTs 9 loadout in Call of Duty: Warzone Season 5.
Best OTs 9 Loadout in Warzone Season 5: Which Attachments to Use
Muzzle: GRU Suppressor
Barrel: 8.1" Task Force
Laser: Tiger Team Spotlight
Ammunition: VDV 40 Rnd Fast Mag
Stock: KGB Skeletal Stock
A staple of most Black Ops Cold War gun loadouts in Warzone, the GRU Suppressor is a necessity to have on the OTs 9 to maximize its effective damage range and bullet velocity.
The 8.1" Task Force barrel is the best choice here as it helps with the SMG's strafe speed the most, as well as further boosts the OTs 9's damage range and bullet velocity.
Tacking on the Tiger Team Spotlight laser is the next attachment in this loadout as it helps with maximizing the OTs 9's mobility even further, especially in the strafe speed department, for those up-close-and-personal engagements.
An essential add-on, especially in Trios and Squads, equip the VDV 40 Rnd Fast Mag ammunition attachment to be able to stay aggressive for as long as possible in fights.
Lastly, to further boost the OTs 9's handling, go with the Raider Stock for the massive benefits it holds in the ADS firing move speed, aim walking movement speed and sprint-to-fire time stats.