Top Games
Best Shooting Badges in NBA 2K22: Which to Use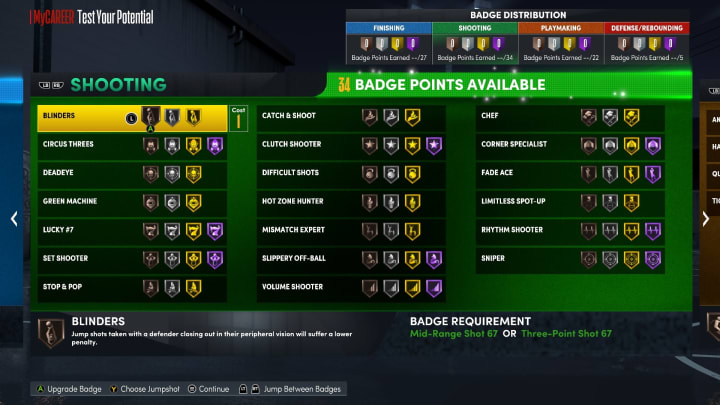 Here are the best Shooting Badges to use in NBA 2K22 MyCareer on Current Gen and Next Gen. / Photo courtesy of Ralston Dacanay, 2K
For those looking to shoot consistently in NBA 2K22, it is a requirement that you equip and upgrade the best Shooting Badges available for your build.
While having the best Jump Shot animation is one half of the battle, it can mean next to nothing if your MyPlayer doesn't have the right Badge setup. Here are the best Shooting Badges to use in NBA 2K22 MyCareer on Current Gen and Next Gen.
Best Shooting Badges in NBA 2K22: Which to Use
Here are the best Shooting Badges to equip for your MyPlayer in NBA 2K22, ranked in order of upgrade priority for those still in the middle of collecting their Badge Upgrades:
Sniper
Blinders
Deadeye
Hot Zone Hunter
Limitless Spot-Up
Green Machine
Chef
Stop & Pop
Catch & Shoot
Difficult Shots
Corner Specialist
Volume Shooter
Clutch Shooter
Circus Threes
Fade Ace
Rhythm Shooter
Mismatch Expert
Set Shooter
Lucky #7
Slippery Off-Ball
To highlight some of the higher-tier shooting badges in the game, I'm going to start with Sniper. A brand-new Shooting Badge this year, Sniper has been reworked to essentially be the opposite of Flexible Release. By making Slightly Early and Late shots go in more, this Badge is pretty much going to be working on every shot you take, as long as you time it fairly well of course.
Blinders is just as OP as it was in NBA 2K21 Next Gen, allowing you to ignore defenders to the side of you while shooting.
Meanwhile, Deadeye has remained a Shooting Badge staple over the years, and remains no exception in NBA 2K22. With the way this game tends to have a lot of late closeouts sent your way, Deadeye is going be just as, if not more effective this year.
Hot Zone Hunter remains an essential Shooting Badge, especially for those with a lower 3-Point Shooting Rating. Just like last year, it makes your jumpers go in much more consistently, especially with those full whites.
As with Deadeye and Hot Zone Hunter, much of the same can be said about Limitless Spot-Up, which allows players to take threes from further distances.
Lastly, more of a luxury to have in my eyes, Green Machine is an OP Badge to have for those able to afford it, and are already a higher overall. This is due to it only being activated after you've hit two greens in a row, but everyone already knows how deadly this Badge can be in the right hands.
For more on NBA 2K22 MyCareer, feel free to check out our guides on how to get the Gym Rat Badge and the Mamba Mentality Badge.