Best Stoner 63 Loadout for Warzone Season 4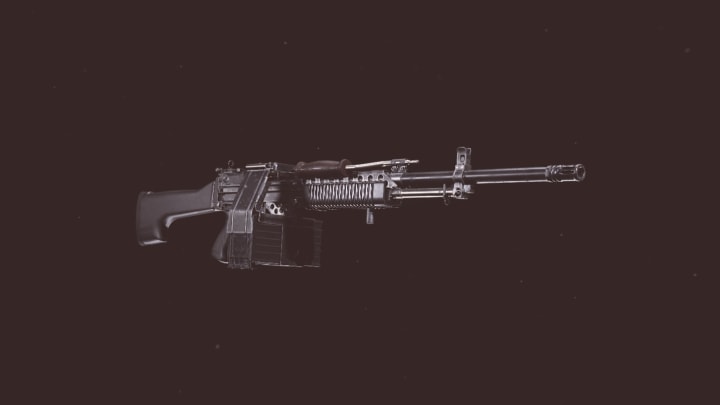 Here are the best attachments to use on the Stoner 63 in Verdansk during Season 4 of Call of Duty: Warzone. / Photo courtesy of Ralston Dacanay, Activision
The best Stoner 63 loadout for Warzone Season 4 guide is here for those who want to make sure they're using the fully optimized version of the dark-horse LMG in the new Season 4 meta.
After the new MG 82 received its well-deserved nerf on June 22, the Stoner 63 returned to its top spot as the best LMG in Warzone, as well as one of the best options overall and a true competitor to the likes of the FARA 83 from medium-to-long range. Here are the attachments to use for the best Stoner 63 loadout in Call of Duty: Warzone Season 4.
Best Stoner 63 Loadout for Warzone Season 4
Muzzle: Agency Suppressor
Barrel: 21.8" Task Force
Ammunition: Fast Mag
Optic: Axial Arms 3x
Rear Grip: Airborne Elastic Grip
A staple of most Black Ops Cold War gun loadouts in Warzone, the Agency Suppressor is great to have on the Stoner 63 to maximize its effective damage range and bullet velocity.
The 21.8" Task Force barrel is the best choice here as it helps with the gun's vertical and horizontal recoil—so much in fact that this setup can get away with not having an underbarrel—as well as further boosts the Stoner 63's damage range and bullet velocity.
Since the Stoner 63 is an LMG, we'd recommend throwing on the Fast Mag ammunition attachment to speed up its reload time. For those who feel like 75 bullets aren't enough, however, feel free to go with the 120 Rnd mag.
While the optic ultimately comes down to personal preference, the common Axial Arms 3x scope seems like the way to go here for those medium-to-long range engagements.
Lastly, as touched on before, players could go with the Field Agent Grip underbarrel attachment for maximum recoil control—although we feel it's not all that necessary for the Stoner 63. Instead, we suggest adding the Airborne Elastic Wrap rear grip for its major ADS speed boost.