Best Whitley Weapon Loadout Warzone Pacific Season 2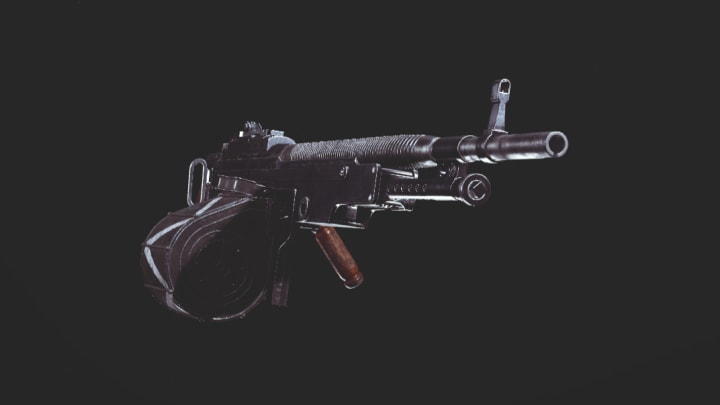 Here are the best attachments to use on the Whitley during Season 2 of Call of Duty: Warzone Pacific. / Image courtesy of Ralston Dacanay, Activision
This best Whitley weapon loadout guide for Warzone Pacific Season 2 is here for those who want to make sure they're using the fully optimized version of the newest LMG in the game.
As shown in our Season 2 weapon tier list for Call of Duty: Warzone Pacific, the Vanguard weapons have been dominating the LMG category in the battle royale as of late. Here are the attachments to use for the best Whitley loadout in Call of Duty: Warzone Pacific Season 2.
Best Whitley Weapon Loadout Warzone Pacific Season 2
Muzzle: MX Silencer
Barrel: 28" Gracey Mk. 9
Underbarrel: m1930 Strife Angled
Magazine: .303 British 45 Round Mags
Ammunition: Lengthened
Optic: G16 2.5x
Rear Grip: Stippled Grip
Stock: CGC R4
Perk 1: Hardscope
Perk 2: Fully Loaded
Starting off the build, the MX Silencer is a great muzzle to use here as it improves the Whitley's vertical recoil and horizontal bounce, while also concealing its position while firing.
Next, we'd go with the 28" Gracey Mk. 9 barrel as it's the best option for that much-needed extra damage range, recoil control and bullet velocity.
With the underbarrel, we went with the m1930 Strife Angled as it helps out with the gun's recoil control and hip-fire accuracy.
For the magazine, we'd go with the .303 British 45 Round Mags attachment as it buffs its recoil control, accuracy, ADS speed and fire rate.
We'd also go with the Lengthened ammo type as it adds some extra bullet velocity for free.
While the optic ultimately comes down to personal preference, the G16 2.5x is a great sight for this medium-to-long-range build.
Add on the Stippled Grip as well, as it improves the Whitley's flinch resistance, and accuracy and recoil during sustained fire.
We also recommend choosing the CGC R4 stock to further improve the Whitley's aiming stability, recoil recovery, initial firing recoil and flinch resistance.
Lastly, for the Whitley's two weapon perks, we'd opt for Hardscope and Fully Loaded to allow you to run around Caldera mowing down enemies as easily as possible.