Black Ops Cold War and Warzone Season 5 Battle Pass Detailed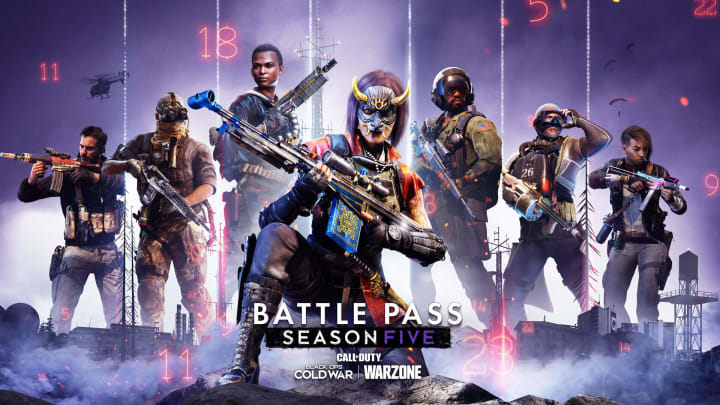 Season Five for Call of Duty: Black Ops Cold War and Warzone launches Thursday, Aug. 12, at 9 p.m. PT. / Photo courtesy of Activision
The Black Ops Cold War and Warzone Season 5 Battle Pass is hours away from officially being released, giving players 100 new tiers that include two free, functional weapons, a new Operator, new Weapon Blueprints, new Operator Skins and more.
Here's a rundown of the best rewards up for grabs soon with Call of Duty's Season Five Battle Pass.
Black Ops Cold War and Warzone Season 5 Battle Pass Detailed
As shown prominently in its key art and trailer, the Season 5 Battle Pass' most exclusive offering is the "Samurai" Ultra-rarity skin for the new Operator Kitsune, a self-taught cybersecurity expert joining Perseus' forces.
With a full suit of samurai armor and oni face mask that have moving light patterns, the skin is definitely an impressive reward for those dedicated enough to reach Tier 100 before the season ends.
For those wondering what they'll receive on day one, however, here are the Tier 0 rewards immediately unlocked for purchasing the new battle pass:
Kitsune Operator Skin and two Missions
Garcia Operator Skin and Mission
Crimson Oni Epic Watch
Seasonal 10% XP Boost
In terms of the new firepower coming to the Season 5, the battle pass screen is where players will want to go to check out the 20 new custom weapon blueprints available to be earned, as well as the brand-new EM2 assault rifle and TEC-9 SMG, unlockable for free at Tier 15 and Tier 31, respectively.
As in previous seasons, the Season Five Battle Pass allows players to earn a selection of free items, including two new base weapons, several Weapon Blueprints and more.
For those looking to access all of the premium content, however, the battle pass starts at 1,000 COD Points, with the Battle Pass Bundle (gives 20 Instant Tier Skips, or 25 for PlayStation consoles) coming in at 2,400 COD Points.
Players can also earn up to 300 COD Points across the free tiers of the pass, and up to 1,300 COD Points via the paid route, which is more than enough to purchase a future Battle Pass or a Season Five Bundle.
Season Five for Call of Duty: Black Ops Cold War and Warzone launches Thursday, Aug. 12, at 9 p.m. PT.
For more on Black Ops Cold War and Warzone Season 5, feel free to check out our coverage of the upcoming 'Double Agent' game mode.