Call of Duty
Black Ops Cold War Season 2 Reloaded: What to Expect
By Max Mallow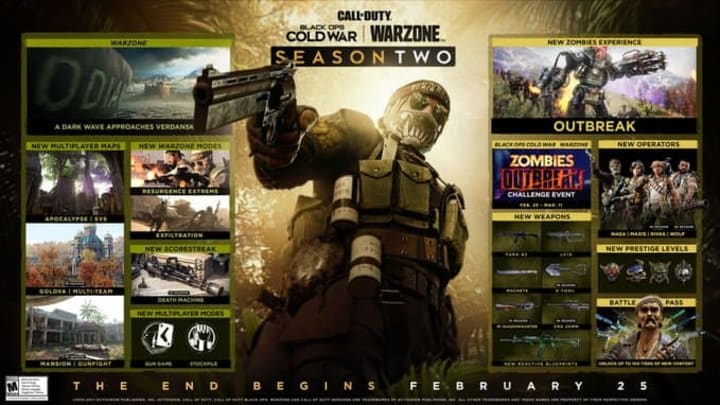 Photo by Activision/Treyarch
Black Ops Cold War Season 2 Reloaded, otherwise known as the mid-season update, is expected to arrive at the halfway point of the season.
First introduced in Call of Duty: Modern Warfare, Activision and its developers opted for free seasonal updates giving fans new content each time. Content ranges from anything to new weapons, maps, Zombies events in Black Ops and more. The seasons span across the current Call of Duty title and the free-to-play battle royale Warzone.
Black Ops Cold War Season 2 included new multiplayer maps, modes, weapons and more. So, what's coming in the mid-season update?
Black Ops Cold War Season 2 Reloaded: What to Expect
According to the seasonal roadmap, a new map and weapon are set to arrive. The Golova multi-team map and the ZRG 20mm sniper rifle are seen in the image, but haven't been released yet. Expect both of these things to arrive in Season 2 Reloaded.
Comparing the Season 1 and Reloaded roadmaps, there was new content added in the mid-season update that wasn't previously specifically mentioned. Yes, the Season 1 roadmap says new multiplayer maps, but Season 1 Reloaded included Express as a remade Black Ops II map. Additionally, it's expected that a Warzone event will happen either during Season 2 Reloaded or at the end of the overall season.
There has been multiple teasers posted to the Call of Duty Twitter account hinting at something major happening. Fans expect a rumored Nuke Event will change Verdansk forever or potentially introduce a new map to the battle royale.
Fans would also welcome yet another Black Ops classic map added to Cold War. So far, Raid and Express were remade for the latest iteration. Black Ops maps have been consistently remade for later titles, but one that hasn't is the fan-favorite Standoff.
It also seems that a new Zombies experience will arrive as well based on a teaser on the Treyarch Studios account.
Black Ops Cold War Season 2 Reloaded Release Date
The teaser was posted March 22 stating that next week new mysteries await.
Black Ops Cold War Season One released Dec. 10 and Reloaded dropped Jan. 14 marking a five-week gap. Season 2 began Feb. 25 meaning the five-week period would be April 1.
Expect more information from Activision and Treyarch in the coming days.