Call of Duty
Boston Breach Revealed as the 12th Call of Duty League Team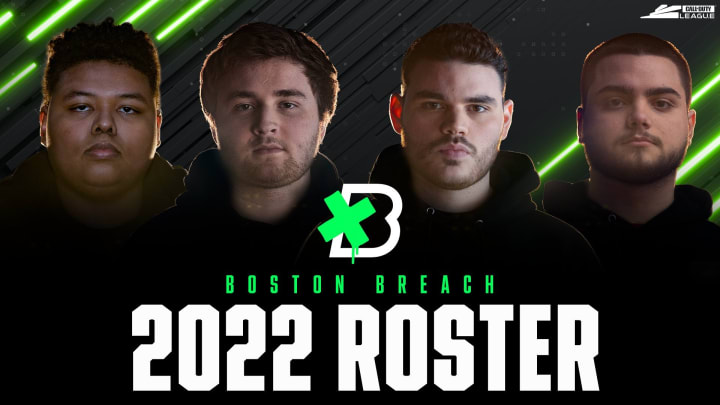 The 12th active franchise in the Call of Duty League has revealed its brand identity. / Image courtesy of Boston Breach, Call of Duty League
Just about a month removed since the Boston Uprising and Oxygen Esports merger deal to bring a New England-based franchise to the Call of Duty League became official, the new brand has been revealed — Boston Breach.
With Oxygen Esports being the brain trust behind the new Boston Call of Duty League franchise, it's only right that the team's colors include green, black, and white.
As shown in the new team's announcement trailer, the Boston Breach not only revolves around a mysterious, calculated vibe but also has its full roster set for the upcoming 2022 CDL season.
Assembled by general manager Denholm "Denz" Taylor and head coach Zach "Zed" Denyer, the founding members of the Boston Breach roster include:
Thomas "TJHaly" Haly
Anthony "Methodz" Zinni
Dylan "Nero" Koch
Kenyen "Capsidal" Sutton
Headlining the roster are two names CDL fans have long been familiar with in TJHaly and Methodz.
With OpTic Gaming Los Angeles and the LA Thieves for TJHaly and the Toronto Ultra for Methodz, both veterans will look to find a home in Boston after being benched in their previous stints.
The other half of the roster appears to be shooting for upside with a pair of 19-year-olds in Nero and Capsidal.
Although both Nero and Capisdal have yet to play in the CDL, both have had well-documented success at the Challengers level.
As the last roster in the league to be locked in, Denz outlined his expectations for the team in an Oxygen Esports blog post released last month.
"I always have high expectations and a shoot for the stars mentality," Denz said in the post, "but I also like to remain realistic. I would say coming into this unique position many will tout us as the '12th best' team. Time is not on our side, and our competition already has 11 fully signed rosters. I'd be wrong to claim we have an easy road ahead, however, I can assure the community and fans that we plan to build this team the right way. We're going to focus our core on the future stars of tomorrow — young, explosive talent — to set up Boston for long-term success. Ultimately, I'm aiming to give fans something to be excited about."
The Boston Breach is scheduled to make their debut against the New York Subliners in the CDL's Kickoff Classic at Esports Stadium Arlington on Jan. 21.