Call of Duty: Mobile Season 6 Roadmap Revealed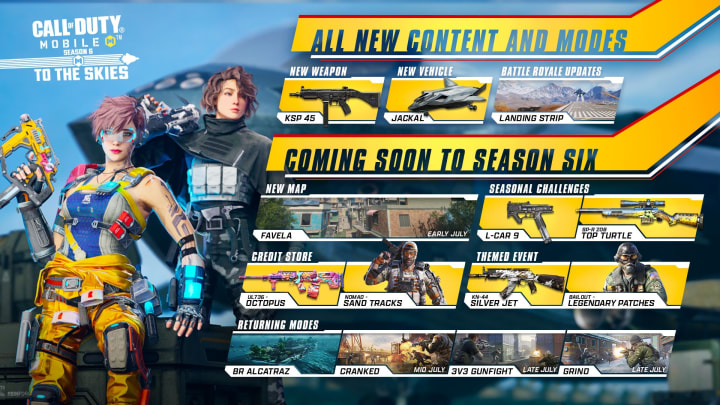 Call of Duty: Mobile Season 6: To the Skies will launch on June 29, at 8 p.m. ET. / Image courtesy of Activision
The Season 6 roadmap for Call of Duty: Mobile has officially been revealed, giving players a full-fledged, in-depth preview of what's to come starting Wednesday night.
Activision periodically releases a roadmap previewing each season prior to the update going live. This one, in particular, is one that die-hard Call of Duty fans will not want to gloss over as there is a ton of new content in terms of battle royale updates, a new map, a new weapon, modes, features, and more in a seasonal theme of "To the Skies." Here's what players can expect to see in Season 6 of Call of Duty: Mobile starting on June 29.
Call of Duty: Mobile Season 6: To the Skies Roadmap
Season 6 Battle Pass
Call of Duty: Mobile Season 6 Battle Pass / Image courtesy of Activision
Season 6 is set to offer a brand-new Battle Pass featuring free and premium items like new Operators, a new functional weapon, Weapon Blueprints, Calling Cards, Charms, COD Points and more.
In particular, some free rewards up for grabs are the KSP 45 SMG at Tier 21 and the Sky Sentry Calling Card at Tier 50.
As far as premium rewards go, the highlights include the Wraith — Disruptor, Reyes — SCAR Pilot, Sophia — Shadow and the Ethan — Flying Sharks Operators, as well as the new Weapon Blueprints for the Man-O-War, Chicom, JAK-12, Locus and the KSP 45.
New Multiplayer Map: Favela
Favela / Image courtesy of Activision
Based on the Call of Duty: Ghosts iteration of the classic map, Favela is set to return in Mobile with its signature, multitiered environment set in the slums of Rio de Janeiro.
Players are invited to battle it out in close quarters along its winding streets, watch for snipers in the rubble and utilize the map's labyrinthine layout to flank their opponents and drive the objective home. The medium-sized map harbors elements for all playstyles, favoring a balance of tactical and rapid-fire engagements.
New Battle Royale Vehicle: Jackal
Jackal / Image courtesy of Activision
In Season 6, Jackals can be found deployed around the Battle Royale environment, particularly on new landing strips. The new jets are said to be fully equipped with missiles, decoys and a Gatling Gun. While flying, the HUD will display other jets, whether enemy-controlled or friendly controlled or non-manned. Players should be able to adjust their speed in order to properly engage in aerial combat and mark their supremacy in the skies.
This new season of content will be available for players to experience starting on June 29, at 8 p.m. ET.
---
For more on Call of Duty, be sure to check out our top five lists:
Additionally, feel free to check out our timeline on the history of the Call of Duty franchise!