Call of Duty
Call of Duty: Modern Warfare II Pre-Order Bonuses Listed
By Aaron McIntire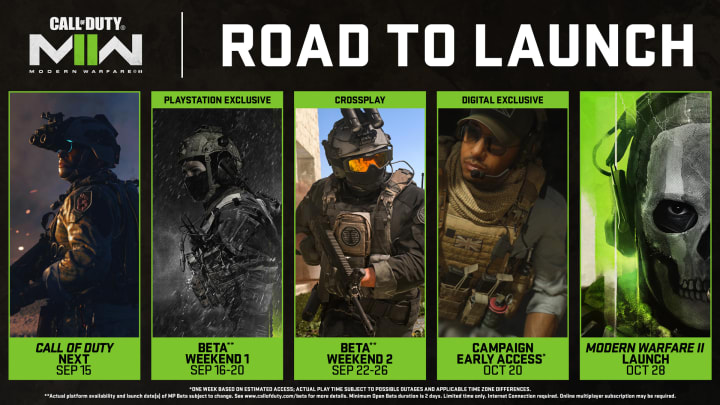 Activision, Infinity Ward
It's that time of the year when a new Call of Duty is upon us. This year players will return to where they left off from the 2019 Modern Warfare reboot. Those who pre-order this year's Call of Duty Modern Warfare II will be allegeable for a number of bonuses.
What are the Pre-Order Bonuses for Call of Duty: Modern Warfare II?
There are two editions of Modern Warfare II that are available for pre-order. Consumers have to choice of the standard game or they can elect to preorder the Vault Edition.
Preorder Bonuses for the standard Modern Warfare II edition
Full access to the story campaign starting Oct. 20 a week before the launch on Oct. 28
Final Judgement Bundle which includes the Deathknell Operator skin and the Bloodthirsty weapon blueprint for immediate use in either Call of Duty: Vanguard or Call of Duty: Warzone.
Preorder Bonuses for the Vault edition of Modern Warfare II
The Vault edition includes all the bonuses from the standard edition
Four playable multiplayer operators from the Red Team 141 including

Ghost, Farah, Price, and Soap

Season one battle pass and 50-tier skips. Players that purchase the vault edition post-season one will have the bonus applied towards the current season
Ghost legacy pack which includes 20 in-game items themed around the iconic Task Force 141 hero Ghost for use in Modern Warfare 2019 or Warzone
FJX Cinder weapon vault
Call of Duty: Modern Warfare II launches Oct. 28 on Xbox, Playstation, Steam, and Battle.net. Those that enjoy Warzone or want to play the campaign early to avoid spoilers may be enticed by these preorder bonuses.