Call of Duty Reportedly Coming to PlayStation Through 2023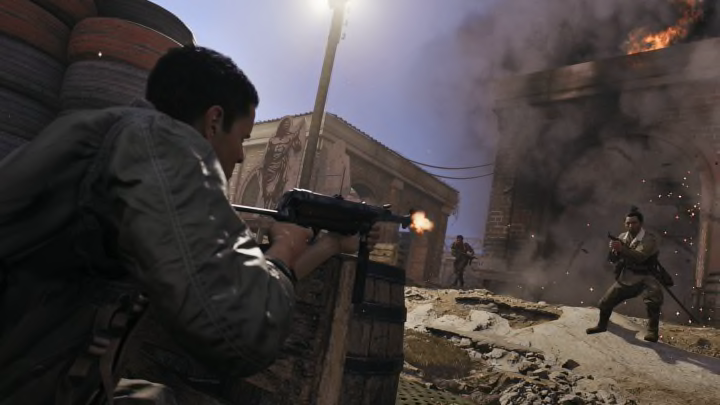 Call of Duty will remain on Sony consoles for the next few releases, but its future beyond that remains in question. / Activision
Call of Duty will remain a multiplatform release through at least 2023 despite its maker, Activision Blizzard, being acquired by Xbox owner Microsoft, according to a Bloomberg report.
Call of Duty 2022 and 2023 will both be released on PlayStation in addition to Windows PC and Xbox. A "new iteration" of Call of Duty: Warzone, expected to debut in 2023, will also be released across console lines. This is all due to a pre-existing agreement between Sony and Activision that remains in effect for at least the next two years, according to four people with knowledge of the deal.
Infinity Ward is working on Call of Duty 2022, which will likely be a sequel to 2019's Modern Warfare, per Bloomberg. Treyarch will handle Call of Duty 2023. It's unclear which of Activision Blizzard's Call of Duty-focused studios will tackle this new Warzone, or what shape that sequel will take.
Questions about platforms for future Call of Duty games arose with news of Microsoft's $68.7 billion purchase of Activision Blizzard earlier this month. Once the deal is finalized in June 2023, Microsoft would be able to make all of Activision Blizzard's IP Xbox-exclusive.
Microsoft Gaming CEO Phil Spencer tweeted that week to assure PlayStation fans he intends to "honor all existing agreements upon acquisition of Activision Blizzard" and "keep Call of Duty on PlayStation."
"Sony is an important part of our industry, and we value our relationship," he said.
Spencer stopped short of sharing Microsoft's plans for when the agreement between Activision Blizzard and Sony runs its course. When the company acquired Bethesda, it ultimately decided to honor existing agreements to have the studio's games appear on PlayStation, but said future releases would be exclusive to Xbox and PC.