Call of Duty: Vanguard Season Two Reloaded: New Ranked Play Rewards and Updates Revealed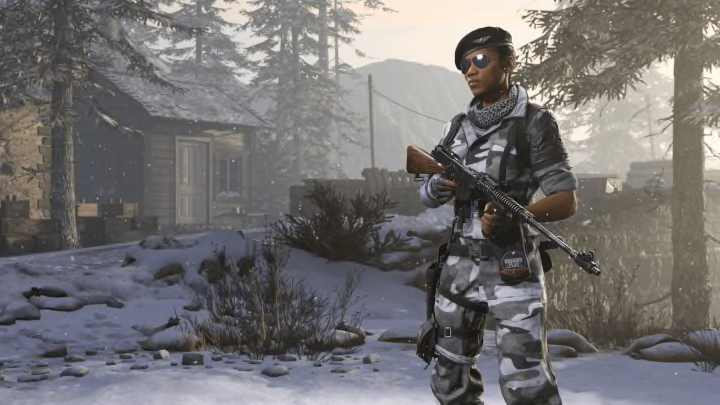 Image courtesy of Activision
Vanguard's Season Two Reloaded Update has seen a lot of changes head to the FPS. Here, we've detailed all of the updates that have been made to the game's Ranked Play.
Call of Duty: Vanguard has just been given a hefty update thanks to Season Two Reloaded. Along with Warzone, Vanguard has been slightly refreshed with the addition of some new content and features for players to get stuck into. On top of the new features are also some handy bug fixes that players have been anxiously awaiting.
This midseason update has seen updates rolled out for both multiplayer, campaign, and Ranked Play, so be sure to check them out. For now, we've detailed all of the Ranked Play updates and rewards for Call of Duty: Vanguard.
Call of Duty: Vanguard Season Two Reloaded: New Ranked Play Rewards and Updates Revealed
Of the updates to Ranked Play, Sledgehammer Games said, "Start grinding for the ultimate bragging rights as one of the highest-ranked players in the world, and earn new rewards no matter which Skill Division you're in, including Weapon Blueprints, Camos, Charms, and Animated Emblems. New rewards will arrive with each season, so be sure to earn your Season Two Rewards while they're available."
"Ranked Play competitors will now be able to form parties with more friends outside of their Skill Division via newly expanded party restrictions. Additional suspension rules have also been added to penalize players who quit mid-match."
Top 250
Skill Division
New 8th Skill Division added above Challenger to feature the 250 highest-ranked players in the world.
Leaderboard
New Top 250 Leaderboard added to track the top players in Ranked Play, visible to all players in-game.
New Rewards
New Season Two Ranked Play rewards can be earned by completing Win Challenges and earning Ladder Placements.
Each new season of Ranked Play will introduce a new set of Season Rewards. Season Two rewards can only be earned in Season Two.
All rewards can be used in both Vanguard and Warzone once unlocked.
Season Two Rewards
Two "Pro Issue" Weapon Blueprints
Two Weapon Camos: "Season Two Ladder Champion" & "Season Two Ranked Veteran"
Two Charms: "I Got Bomb" & "Mano-a-Mano"
"Don't Be Salty" Spray"
Season Two Competitor" Sticker
Skill Division Rewards
Exclusive "Ranked Legend" Solange Operator Skin awarded for winning 25 games in the Master Skill Division or higher
Animated Emblem awarded at the end of the season based on the player's final Skill Division
Each Skill Division has a Charm that can be earned by winning 10 games in that Skill Division
Expanded Party Skill Restrictions
Players in Master & Challenger can now form parties with players up to one adjacent Skill Division away (previously only within 500 SR).
Players in Elite can now form parties with players up to two adjacent Skill Divisions away (previously only within 1,000 SR).
Players below Elite can continue to party up without restrictions, and can now party with players who haven't yet completed their Seasonal Skill Evaluation matches.
Party Restriction rules are now determined by the highest Skill Division represented in the party.
Players are now less likely to get matched with other players who are outside of their current Party Skill Restrictions.
UI Updates
My Career & Rewards
Added new My Career & Rewards menu, where players can access their Rank, Rewards, and Skill Division screens for additional information.
Rewards Screen: Preview your Season Two & Skill Division Rewards and track your progress toward your next unlock.
Skill Division Screen: See where you stack up in the Skill Divisions with information on your current Skill Division, as well as your progress toward your next Tier promotion.
Progression
The player's current Rank number is now displayed above their Rank Icon in the Ranked Play lobby.
Players without a Rank will now appear as Unranked.
XP and Weapon XP summary screens are no longer shown after Ranked Play matches.
Ladder Events
The Ladder screen now defaults to the player's current position when opened.
Stars for previously earned Ranks now correctly appear as filled in on the Ranks screen.
Ranks 10-29 now display the correct number of Stars needed on the Ranks screen.
Restrictions
Create-a-Class, Killstreaks, and Field Upgrades menus now correctly display all restricted Ranked Play content as restricted. These restricted items can no longer appear to be equipped to Ranked Play loadouts.
How to Play Menu
Maps & Modes tab now displays accurate Ranked Play maps.
Added information about Victory Flames to the Ladder Events tab.
General
Addressed an issue that was causing the player's Operator to occasionally not appear in the Ranked Play menu.
Addressed an issue where players in their 5 Skill Evaluation matches would occasionally appear as being already placed in a Skill Division in some locations.
Rank Progression
Increased the number of Stars earned for each Ladder Placement to make progression through the 50 Ranks slightly faster:
1st Place = 7 Stars (previously 5)
Top 5 = 6 Stars (previously 4)
Top 10 = 5 Stars (previously 3)
Top 25 = 3 Stars (previously 2)
Remaining players = 2 Stars (previously 1)
Disconnect Penalties
The first player to disconnect or quit a Ranked Play match in progress will receive a timed suspension from Ranked Play matchmaking, with increased suspension durations for repeat offenders.
Players receive SR and Ladder Point penalties if they quit or disconnect from a match in progress. These penalties are applied after their next completed match.
The first player to disconnect from the match receives a larger penalty than players who disconnect afterward.
Match Cancelation
Players will now see "Match Canceled" whenever a match is canceled due to uneven teams.
MVP Voting no longer displays after a match that was canceled after it started.
Playlist Changes
Adjusted the map and mode weighting used by the Ranked Play playlist to provide a more even balance of Search & Destroy maps. Previous to this change, Desert Siege Search & Destroy was being selected more than intended.
General
Resolved Dev Error 5476, which was occasionally displayed for some players when trying to access Ranked Play from the main menu.
Addressed an issue where players would occasionally not earn SR for a win after the entire enemy team had quit.
Addressed an issue where players could be automatically returned to the Lobby when scrolling on the Ladder screen.
Addressed an issue that was causing a small number of players to have empty Ranked Play classes and no ability to create Custom Classes.