Call of Duty: Warzone Season 2 Reloaded Map Changes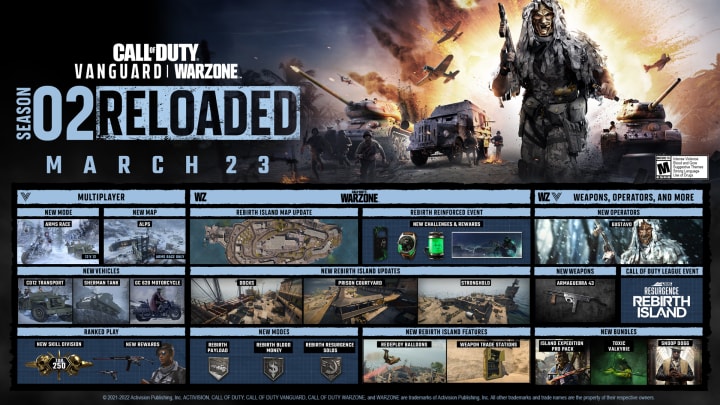 Warzone Season 2 Reloaded is now available. / Photo courtesy of Activision
The Warzone Season 2 Reloaded update is now available for Call of Duty: Warzone Pacific. In the newest update, there have been updates and changes to Rebirth Island, including brand new points of interest.
Here's all the newest patch notes for the Warzone Season 2 Reloaded: Rebirth Island Map update, per the patch notes.
Warzone Season 2 Reloaded Map Changes
Rebirth Island Adjustments
Increased the amount of loot in less visited areas to encourage players to explore the island.
Added cover in hotspots where players usually get killed to give them a chance to fight back.
New Features
Enviornmental Improvements
A new skybox - Drastic sun orientation update to change the shapes of the shadows throughout the map, and also added stormy/dramatic clouds on the horizon.
New lighting & atmosphere - Doubled down on the bright and vibrant color treatment globally, and also updated the atmospheric fog to match the new skybox.
New signage & murals.
Redeploy Balloons have arrived on Rebirth but with a few twists; destroyed by default, less health, and between 0-4 balloons active at the same time.
Gulag Revamp:  The mid-section of the Gulag has been modified to create more exciting engagements for Iron Trials.
Security Area Becomes Stronghold
The Security Area is now known as Stronghold following Perseus's reinforcement project. Stronghold features two new structures - the administrative building and the radar building (replacing the communications tower). Expect to find plenty of items for close combat engagements.
Shore Becomes Dock
The previously empty Shore has now become Dock. With an anchored cargo ship now present, climb aboard via the extended concrete helipad and discover the loot inside.
Prison Yard
The Prison Yard has been partially reinforced and the construction materials can be used as cover or as platforms for jumping onto the guard wall walkways. The repainted water tower with Persus's flags looms in the distance.
Boat Docked at Nova 6 Factory
A second cargo ship has arrived at the Nova 6 Factory. Explore the ship for items and Supply Boxes but avoid falling into the water - it could be dangerous!