Can Dubwool be Shiny in Pokemon GO?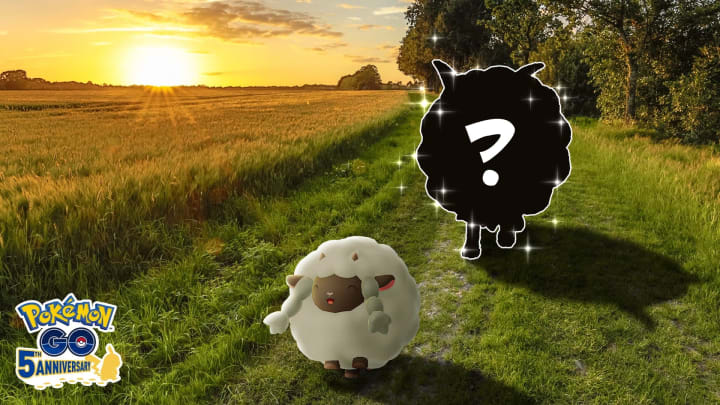 Trainers want to know whether or not Dubwool can be shiny in Pokemon GO. / Niantic Labs
Trainers want to know whether or not Dubwool can be shiny in Pokemon GO.
Dubwool, the evolved form of Wooloo, tends to be rarer than its pre-evolved counterpart. Regardless, trainers can get their fill of this Galar-region native during its featured Spotlight Hour tonight, Aug. 31, at 6 p.m. to 7 p.m., local time. As most trainers use Spotlight Hours to hunt for shinies, Dubwool's place center stage begs the question of whether or not it can be shiny, itself.
Shiny Dubwool in Pokemon GO
Unfortunately, Dubwool cannot be shiny at this time. Neither can Wooloo, we're afraid, though that doesn't mean their color variants will never appear in-game. Since the two were added less than two weeks ago on Aug. 20, it makes sense that Niantic Labs is holding back its shiny form.
Shiny Dubwool simply swaps the values of its black and white wool. Essentially, its white spots become black and its black spots become white. Its gray neck ruff, warm brown hooves and horns, eye spots, and eyes remain the same.
This Pokemon is a normal-type. Unfortunately, its stats make it a poor choice for battles, Gyms, or Raids. Trainers should find Dubwool to be more useful as a fun Buddy or trophy Pokemon than powerful companion. It has the following stats:
Maximum CP: 2478
Maximum HP: 160
Attack: 159
Defense: 198
Stamina: 176
Best Quick Move: Tackle/Take Down
Best Charged Move: Wild Charge
It can only be acquired through evolution and cannot be found in the wild. Trainers can evolve Dubwool from Wooloo for 50 candies.
Dubwool is also known as the "Sheep" Pokemon, though it looks a bit more like a ram. It is best known for its springy fleece that, when woven into a carpet or sheet, acts more like a trampoline than a true rug. Trainers may find that they "start to bounce the moment [they] set foot on it." Its horns are more for show than battle and almost exclusively used to impress a mate. Its PokeDex number is 832.