Call of Duty
CDL 2022 Schedule Announced: Kickoff Classic, Majors, Pro-Am Classic, and Champs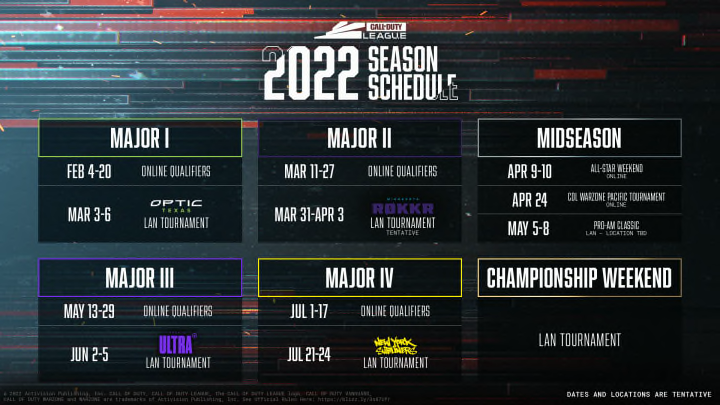 The 2022 Call of Duty League season is set to include seven LAN events and two online midseason tournaments. / Image courtesy of Call of Duty League
The Call of Duty League (CDL) has penciled in and revealed the tentative dates and locations for its 2022 season schedule.
With all 12 of the league's franchises in place after the announcement of the Boston Breach roster, as well as its leaders giving out their first-ever community update earlier this week, it is almost finally time to get the professional Call of Duty: Vanguard circuit started for 2022.
Kicking things off, of course, is the Kickoff Classic — the league's first in-person event of the year. From Jan. 21 to Jan. 23, all 12 teams will be competing on LAN at Esports Stadium Arlington in front of a live audience. As it is a preseason event, there will be no CDL Points awarded here for the official standings.
Making up the bulk of the season will then be four Majors tournaments, as well as the CDL's first-ever $250,000 Pro-Am Classic highlighting the midseason break.
Unlike in past seasons, all of the matchups for every online qualifier match for the year have already been locked in so that teams will play each other an equal number of times for seeding, as well as for the convenience of fans looking to tune in.
Major I
Online Qualifiers: Feb. 4 to Feb. 20
OpTic Texas LAN Tournament: March 3 to March 6
Major II
Online Qualifiers: March 11 to March 27
Minnesota ROKKR LAN Tournament: March 31 to April 3
Midseason
All-Star Weekend: April 9 to April 10
CDL Warzone Pacific Tournament: April 24
Pro-Am Classic: May 5 to May 8
While the details regarding the CDL's 2022 All-Star Weekend are TBD, those pertaining to the league's two online midseason tournaments were announced.
For the CDL Warzone Pacific Tournament, each of the 12 pro teams will assemble a four-person squad and drop into Rebirth Island Resurgence Quads. The last person standing on each map takes home a cash prize for their team and additional prizing is awarded for kills.
With the Pro-Am Classic, all 12 CDL teams are scheduled to compete on LAN in front of a live audience alongside the top four Challengers squads. Although no CDL points will be awarded for this event, $100,000 in first place prizing will be on the line with the Challengers players surely looking to show the world what they've got against the pros.
Major III
Online Qualifiers: May 13 to May 29
Toronto Ultra LAN Tournament: June 2 to June 5
Major IV
Online Qualifiers: July 1 to July 17
New York Subliners LAN Tournament: July 21 to July 24
Lastly, while the exact dates and venue details are currently undisclosed, the CDL 2022 schedule will wrap up eventually with its traditional Playoffs and Championship Weekend on LAN.