Cheapest TOTSSF FIFA 20: 5 Cheap SBC Fodder Players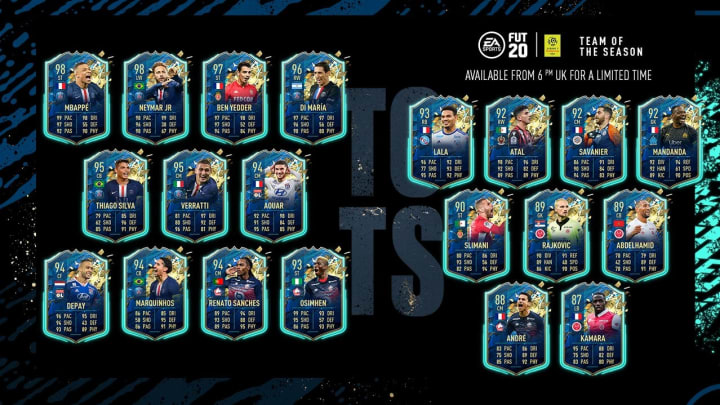 Cheapest Team of the Season so Far players in FIFA 20 to use in Squad Building Challenges, especially in the Guaranteed Ligue 1 TOTSSF. / Photo courtesy by EA Sports
Cheapest Team of the Season so Far players in FIFA 20 to use in Squad Building Challenges, especially in the Guaranteed Ligue 1 TOTSSF, is interesting for players to know.
TOTSSF is FIFA's biggest annual event, and Ligue 1 has not disappointed anyone this year. Released Friday, Ligue 1 TOTSSF players have probably broken the game. It has most likely further divided those who pay-to-play to those who haven't, making it harder to progress in FUT Champs.
Here are five cheap TOTSSF players for SBCs:
Cheapest TOTSSF FIFA 20: 5 Cheap SBC Fodder Players
TOTSSF players will vary in price depending on rating, usage and league. Friday releases are usually higher priced due to them coming from a big league. Monday releases are not apart of the big five leagues but some players are just as good. Most of the Monday TOTSSF players are cheap and great for SBCs.
Here are five cheap TOTSSF players:
1.

Benjamin Andre

88 rated French midfielder, Andre is a great SBC fodder. High rating, good league and nationality will make him an easy link for any SBC requiring chemistry. At only 26,000 coins, not only is this card a steal, it is also a great card to play with as a CDM.
2.

Paulinho

Another cheap 88 rated TOTSSF player that is easy to link due to his Portuguese nationality. At only 27,000 coins, Paulinho is a great SBC fodder as he is above the guaranteed TOTSSF minimum rating and will help with the chemistry.
3.

Carlos Eduardo

87 rated LM has been a staple in cheap SBCs requiring a TOTSSF since the Saudi Pro League TOTSSF was released. Very easy to link due to his nationality and at only 25,500 coins, this player is one of the best SBC fodder.
4.

Igor Rossi

Like Eduardo, Rossi is a Brazilian player in the Saudi Pro League. Although being 85 rated, he is easy to link and is still usable in Guaranteed TOTSSF SBCs. At 23,500 coins, the player is another steal but at a little more coins, players can go after higher rated cards above.
5.

Anselmo

Another Brazilian from the Saudi Pro League. This whopping 90 rated CDM card is only at 35,000 coins. It will not only boost an SBC's rating but be easier to link. Hard links with players above and with the likes of Fernandinho and Casemiro will make SBCs much easier..