Competitive Apex Legends Players are Fed Up with 'Indestructible Gibby Meta'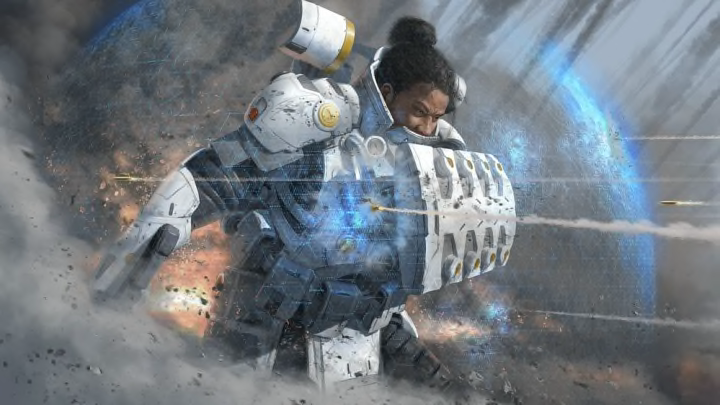 Some Apex Legends players are fed up with Gibraltar and his near-indestructibility—and they've taken to Reddit to vent their anger about it. / Respawn Entertainment
Some Apex Legends players are fed up with Gibraltar and his near-indestructibility—and they've taken to Reddit to vent their anger about it.
One such user, nlgnarlyman, published a brief, 30-second animation about the situation on the official Apex Legends subreddit.
It featured Wraith speed punching an otherwise unbothered Gibraltar—known as "Gibby" to players—wearing red armor to the tune of "It Has To Be This Way" from Metal Gear Rising: Revengeance. They appropriately titled their post "How it feels to fight gibby with red armor" which several others quickly resonated with.
Competitive Apex Legends Players are Fed Up with Red-Armor Gibby
"A red armor, arm shielded gibby behind a rampart wall. Truly something to fear." Reddit Angel_OfSolitude wrote, to which IrishSkamp agreed:
"Me and some randoms nearly lost the match to a solo red evo gibby on Olympus truly a thing to fear," they replied.
"It takes 308 fricking damage to kill a red armor Gibby," user Kayehnator wrote, "I dislike it so much."
LeBoofers wrote, "This is my friend in every game of ranked, always 1hp Gibby left standing."
One user, MarioKartEpicness, attempted to offer some advice to taking down other Gibbies in future matches—though, this primarily demonstrated how much effort it takes to actually bring one down—writing, "If you're trading blows with a gibby you'll need to do 190 damage to break his gunshield and crack his red shield. They'll likely bubble, get a battery off on the far side of their bubble and you gotta do it all over again before he's on health lol."
Others took the chance to make a few jokes regarding the legend's "legendary" resistances in-game by quoting—or, rather, misquoting—some of his voice lines.
"'Why won't you die?'" LogicalTips began, answering themselves with, "'Fortified, son. They help reduce damage by 15%!"
Truly, the legend has a history of surviving the most difficult encounters with a Fortified 15% damage reduction and two shields in the form of Dome of Protection and the rather aptly-named Gun Shield. This can make him both a player's best friend and worst nightmare.