Dead Space Remake vs Resident Evil 4 Remake: Which to Buy?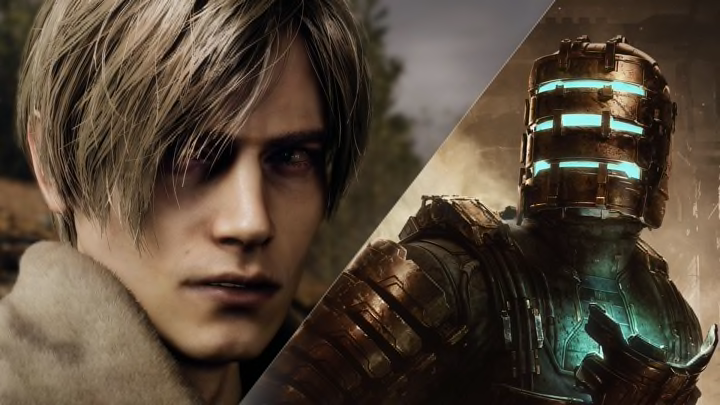 Two monster remakes are set to release in 2023, but which should you buy? / Capcom, Motive Studio | Graphic: Sam Clarke
2023 will see two major remakes coming out just a few months apart: Dead Space and Resident Evil 4. But if you're looking to get just one, which should you buy?
This year is certainly one for the horror fans, with two remakes of some of the genre's most iconic titles. Dead Space is being remake by EA-owned Motive Studio, while Resident Evil 4 is getting its treatment straight from Capcom using the RE Engine.
But it hasn't gone unnoticed that video games are generally getting more expensive. Even new remakes and ports can still set you back a fair amount of cash. Not to mention that we're all finding ourselves with less time on our hands to complete games.
So, if you were thinking of limiting yourself to just one of these titles, or perhaps you're wondering which one you'll have a better time with, we've put together a comparison.
Dead Space Remake vs Resident Evil 4 Remake: Which to Buy?
Dead Space
Motive Studio
Developer: Motive Studio
Publisher: EA
Release Date: Jan. 27, 2023
Platforms: PlayStation 5, Xbox Series X|S, Microsoft Windows
Dead Space is a remake of EA's 2008 survival horror game of the same name. With a sci-fi setting, Dead Space follows the story of Isaac Clarke, an engineer who heads to the USG Ishimura in search of his girlfriend Nicole Brennan, the Ishimura's senior medical officer. He quickly finds that the entire crew has been killed or turned into monstrous Necromorphs.
The remake will retain the same plot as the original, but is being developed on EA's Frostbite engine, previously used to develop Star Wars: Squadrons and the single-player campaign of Star Wars Battlefront II. It will feature new and redesigned assets, character models and environments, all to take advantage of modern console systems. Isaac Clarke will also be fully voiced in the remake, having been mostly silent in the original.
Through the number of teasers and gameplay clips Motive have released since the game's announcement, its clear the title is shaping up to be an impressive remake.
Dead Space will be included in EA Play Pro subscriptions on release, meaning subscribers won't have to pay any additional costs to play the game. PlayStation 5 and Xbox Series X|S players will be able to purchase the standard edition of the game for $69.99. PC and Epic Games Store players can purchase it slightly reduced, at $59.99. The price is steep for a remake, but Motive have committed not only to drastic graphical improvements but to enhancements of the story and characters.
Resident Evil 4
Capcom
Developer: Capcom
Publisher: Capcom
Release Date: Mar. 24, 2023
Platforms: PlayStation 5, PlayStation 4, Xbox Series X|S, Microsoft Windows
Resident Evil 4 is a remake of an even earlier title, Capcom's survival horror from 2005 that first released on the GameCube and then on PS2 later in the year. The original has often been dubbed one of best video games ever made, and marked a shift towards more action-based survival horror for the Resident Evil franchise.
The remake was announced in June 2022, as part of PlayStation's State of Play. It will feature the same "over-the-shoulder" third-person shooter-style gameplay from the original, but take some cues from the remakes of Resident Evil 2 and Resident Evil 3. Like the Dead Space remake, Resident Evil 4 will feature improved character designs and enhanced backgrounds. But, according to Capcom, the game will have a reimagined storyline while retaining the same "essence" of the original. The controls have also been modernized for modern platforms, and to enhance the "intensity" of the gameplay.
It's hard to deny that the game has been given an impressive graphical overhaul, and a far more eerie atmosphere.
Unlike Dead Space, Resident Evil 4 will be available to play on PlayStation 4, making the decision a no-brainer for players on the previous generation console. Additionally, the game is set to cost a bit less on modern consoles compared to EA's title, with Resident Evil 4 up for purchase on PS4, PS5 and Xbox Series X|S for $59.99.
Should I Buy Dead Space Remake or Resident Evil 4 Remake?
The decision comes down to a number of factors. If you're a PlayStation 4 owner, and maybe one looking to upgrade to the PlayStation 5 in the future, then your choice is Resident Evil 4. Not only is this the only title of the two to release on PlayStation 4, but it offers an upgrade to the PlayStation 5 version.
If you're after the cheaper of the two options, then Resident Evil 4 is the choice again. Capcom's entry sits $10 cheaper than Dead Space, unless you're buying on PC.
Both games offer a huge overhaul in graphics and fully modernized gameplay, but it seems Dead Space may be more of a beat-for-beat remake. If you're looking to experience the same game from the past, but in a prettier, more enhanced way, then Dead Space comes out on top here. Resident Evil 4, while still following roughly the same vibe, introduces a reimagined storyline. It's unclear how much the game will deviate from what we know, but purists might not be guaranteed to gel with it as much as they'd hope.
Players can also consider release dates. Dead Space is set to release towards the end of January, whereas Resident Evil 4 won't grace our systems until March. If you're looking to scratch that survival horror itch sooner rather than later, then Dead Space might be your first port of call.
---
Looking for more information on Resident Evil? Check out our timeline of the entire franchise.