Apex Legends
Everything We Know About Ash's Abilities in Apex Legends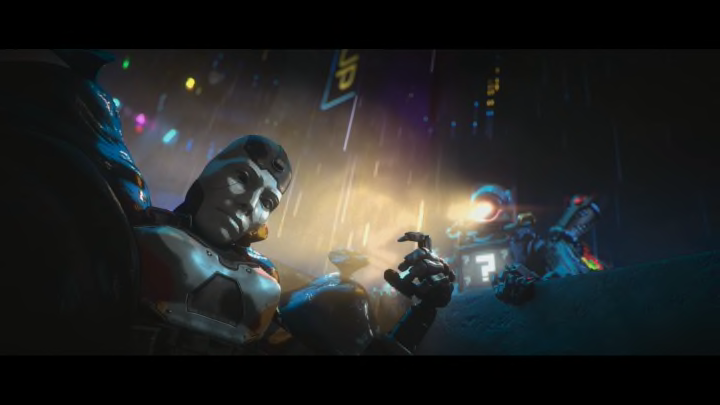 We've put together a short explanation of everything we know about Ash's abilities ahead of Apex Legends Season 11: Escape. / Respawn Entertainment
We've put together a short explanation of everything we know about Ash's abilities ahead of Apex Legends Season 11: Escape.
Apex Legend's latest Stories from the Outlands revealed that the simulacrum Ash, also known as Dr. Ashleigh Reid, will be coming to the Apex Games as a playable character with the next season. Titanfall fans should remember this character from her iconic betrayal of Mary "Horizon" Somers—leading the other woman to become trapped in a black hole.
For this, Ash was mortally wounded, and had her consciousness transferred into a robotic body to become what is known as a simulacrum. She worked as a mercenary before being junked, tossed away, and rebuilt a handful of times. Recently, she has taken up the role of host for the Apex deathmatch Arena.
Here's what we know players can expect when picking Ash in Season 11.
Apex Legends Ash Abilities: What We Know So Far
Unfortunately, since her reveal was so recent, DBLTAP cannot confirm any concrete information about Ash's abilities at the time of writing. We can go over a bit of speculation, however, from credible Apex Legends informant Garret (@GarretLeaks).
In a video posted to his YouTube account on Oct. 2, Garret revealed a few pieces of information that he believed were tied to Ash.
One ability is known as "Marked for Death" or something similar. In the game files, it is currently represented as an area of effect (AoE) disc with the title "ash_markedeath_disc_ground." As Garret explains, this is actually the name of a mode directly lifted from Titanfall 2, which "makes sense with Ash." It is paired with another "init" file noting the object as a "ring_sphere" with a large area stretching out around it.
"My current guess going to be a huge area of effect where damage is boosted within the area," he said.
Her ultimate ability could be a mobile skill similar to Wraith where Ash dashes toward one direction and disappears into a portal with another portal appearing at her exit point. This has the potential to remove Wraith from the meta—or at least knock her down a few pegs—as she is currently the only legend with similar rotation and offensive capabilities. The community has started to call this move a "Phase Shift".
Respawn Entertainment has yet to confirm or deny any of this information put forward by Garret and/or the Apex Legends informant community. The Season 11: Escape launch trailer is set to go live on Oct. 21.