Everything You Need to Know About the Castle Heart in V Rising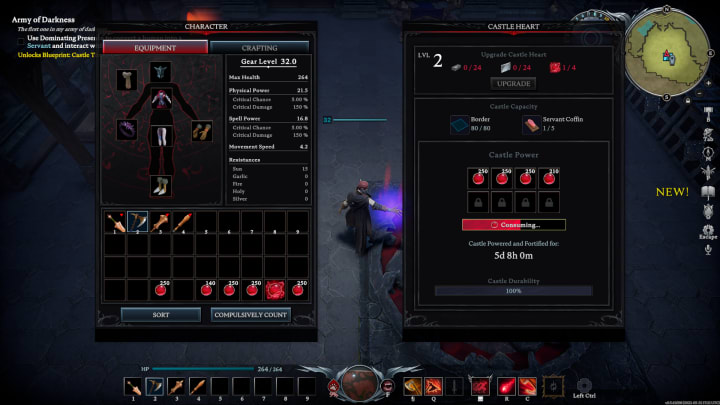 We've put together a full guide to the care and protection of the Castle Heart in V Rising. / Stunlock Studios
We've put together a full guide to the care and protection of the Castle Heart in V Rising.
Ever wondered about the Castle Heart in V Rising? Wonder no longer — we've got you covered. Below, we've explained everything we know about the structure and what it does to keep your seat of power safe and sound.
What is the Castle Heart in V Rising?
The Castle Heart in V Rising is one of the first structures the game requires you to build. Visually, it's a brazier with a red orb of blood levitating just above it and dripping down. The more Blood Essence players feed it, the larger the orb grows — along with other benefits.
Essentially, the Castle Heart is the source of a vampire's territory's power. It keeps the territory together and prevents structures from egregiously breaking down while the player is absent. It directly controls how large a vampire's territory can be and serves as the seat of their power. Territory can only be built around an existing Castle Heart and can only support the number of tiles allowed by the heart.
Castle Hearts can only be fed a certain number of Blood Essence stacks per upgrade. However, if they run out of Blood Essence to eat, the entire territory will fall into decay and become vulnerable to attacks from other players and outside forces.
Never fear, however, as the Castle Heart can be upgraded with the right materials.
How to Build and Upgrade a Castle Heart in V Rising
The recipe for a basic Castle Heart is:
Once built, players can keep it alive by feeding it Blood Essence. Later, as they level up their resources and gain access to different refineries, they can work to upgrade their Castle Heart. The upgrade tiers are as follows:
First Upgrade
Second Upgrade
---
V Rising is currently available in Early Access on Steam.