Call of Duty
FaZe Swagg Reveals How to Make the Modern Warfare 2 'MP5K' Warzone Loadout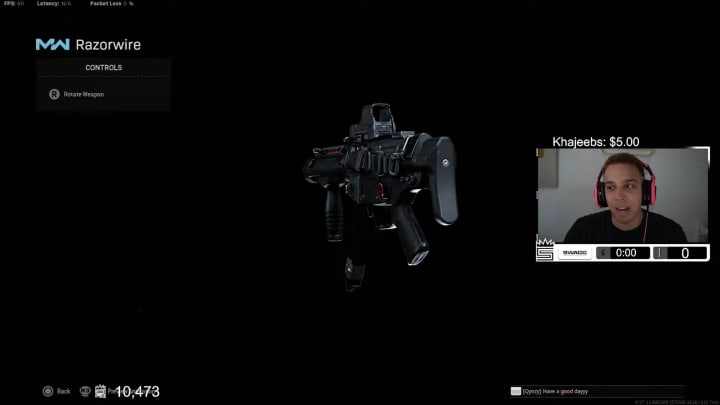 "It actually looks pretty quirky, but I just went so off with this class it's actually ridiculous." / Image courtesy of FaZe Swagg, Activision
With the hype train for Infinity Ward's upcoming 2022 Modern Warfare 2 reboot sequel going full steam ahead, it's no surprise that players are doing whatever they can to simulate what its gameplay is going to feel like.
Back in the original Modern Warfare 2 from 2009, the MP5K was easily one of the most commonly used SMGs thanks to its high fire rate, amazing mobility and virtually-absent recoil pattern. Then, in Modern Warfare (2019), there was an easter egg where equipping a certain attachment on the MP5 changes the weapon's name to "MP5K" in the HUD.
Breaking it all down in a recent YouTube video eloquently titled, "The MP5K is BACK..," content creator FaZe Swagg showcased just how players can use the "O.G. Modern Warfare 2 MP5K" right now in Call of Duty: Warzone Pacific Season 3.
"I actually looked up a makeshift build for the MP5K in Modern Warfare 2019 that I can use in Warzone," Swagg said in the video. "It actually looks pretty quirky, but I just went so off with this class it's actually ridiculous."
For those looking to use the exact same MW2 MP5K build that Swagg showcased, feel free to try out this class setup for the Modern Warfare MP5:
Barrel: FFS Mini
Underbarrel: Ranger Foregrip 
Laser: Tac Laser 
Optic: Corp Combat Holo Sight 
Stock: FTAC Collapsible 
Right off the bat, what stands out with this setup is the use of the FFS Mini barrel, which was the exact attachment that players needed to use in Modern Warfare (2019) to change the weapon's name to "MP5K" in the HUD.
Ultimately, the "K" in the "MP5K" name actually stands for "Kurz," which translates to "short" German. The FSS Mini barrel makes the MP5 (MW) a more compact version of itself, and essentially become the MP5K.
Aside from that, these attachments are all pretty standard in the current meta except for maybe the Corp Combat Holo Sight, which serves as more of an ode to the red dot sight days of MW2 multiplayer.
For more on Call of Duty, be sure to check out our top five lists:
Additionally, feel free to check out our timeline on the history of the Call of Duty franchise!