FaZe Swagg Shows Off Go-To Warzone Assault Rifle After Aug. 3 Patch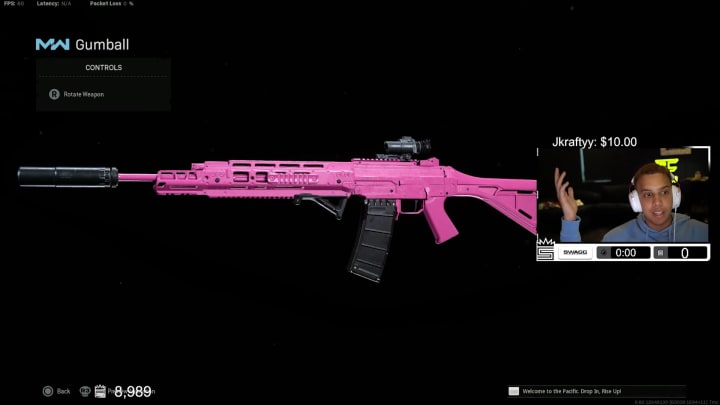 "Since you nerfed everything. Everything. Let's think of a gun that they haven't touched in a very long time." / Image courtesy of FaZe Swagg, Activision
With just about every Call of Duty: Warzone meta assault rifle being nerfed in Raven Software's latest weapon balancing patch, a lot of players seem to be fed up with the constant changes and are going back to their tried and true favorites.
That's exactly what OG Call of Duty content creator FaZe Swagg did recently now that the Kilo 141 has been nerfed again. Breaking it all down in a recent YouTube video eloquently titled, "Goodbye Kilo, Hello Grau," Swagg showcased just how players can use his all-time favorite gun right now in Call of Duty: Warzone Season 4 Reloaded.
"Obviously, they nerfed the NZ," Swagg said in the video. "They nerfed the KG. They nerfed the Volk. And then this is the kicker that really got me. The whole community has been excited for this. They nerfed the Kilo. They nerfed the minimum damage range. I don't understand. I don't know who's testing stuff over there, but it just doesn't make any sense. Why nerf that gun? You just buffed it."
Ultimately, as Swagg demonstrated later, the Modern Warfare Grau 5.56 certainly still hits in Caldera, even without the meta SVT-40 PU Scope 3-6x optic.
For those looking to use Swagg's Grau 5.56 build, here is his class setup:
Muzzle: Monolithic Suppressor
Barrel: Tempus 26.4" Archangel
Underbarrel: Commando Foregrip
Ammunition: 60 Round Mags
Optic: VLK 3.0x Optic
---
For more on Call of Duty, be sure to check out our top five lists:
Additionally, feel free to check out our timeline on the history of the Call of Duty franchise!