FIFA
FIFA 22 Headliners Team 2 Predictions: 5 Players Who Should Get in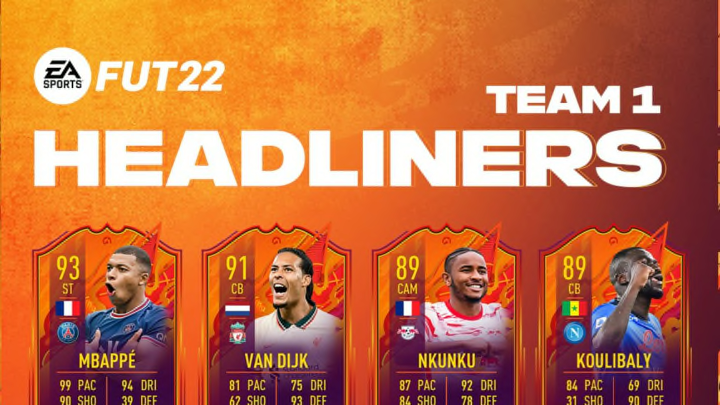 With a confirmed Team Two arriving this upcoming Friday, Jan. 7, we are anticipating more marquee cards to be added to Team Two. / Photo Courtesy of EA Sports.
FUT Headliners has arrived in FIFA 22 Ultimate Team, adding plenty of quality cards to the game in packs, objectives, and SBCs. Team One featured big names such as Kylian Mbappe, Virgil Van Dijk, and Christopher Nkunku.
With a confirmed Team Two arriving this upcoming Friday, Jan. 7, we are anticipating more marquee cards to be added to Team Two. Here are some of our predictions for Headliners Team 2.
FIFA 22 Headliners Team 2 Predictions: 5 Players Who Should Get in
The following players have performed well so far this season, and should be considered to be added to the Headliners promotion this Friday:
1. Joao Cancelo (LB/RB, Manchester City)
Arsenal v Manchester City - Premier League / Catherine Ivill/GettyImages
Cancelo is having a brilliant campaign for Manchester City this season and has proven himself as one of the best fullbacks in the Premier League on both the left and right sides. There's a case to argue that he may even be featured in the upcoming Team of the Year in FUT, so if he isn't in the Headliners team, that may not be a bad thing for Man City fans.
2. Vinicius Jr. (LW, Real Madrid)
Elche CF v Real Madrid CF - La Liga Santander / Aitor Alcalde Colomer/GettyImages
Arguably a top three player at Los Blancos this season, Vinicius Jr. has grown into a top Brazilian talent and has broken out in the La Liga. He's already had several informs, a TOTGS, and even a POTM card in FUT. A Headliners card would be icing on the cake for fans of his card in FUT, and a headache for opponents who match up against him. Expect plenty of upgrades if he gets a card on Friday.
3. Nicolò Barella (CM, Inter)
US Salernitana v FC Internazionale - Serie A / Giuseppe Bellini/GettyImages
Barella is coming into his own for Inter this season as one of their best midfielders. A box-to-box maestro, he has received multiple in-forms in FUT and has performed well for the top of the table Inter. A Headliners card would be deserved and an 88-rated. If Barella gets a Headliners item, he will compete with Sergej Milinkovic-Savic for best CM in the Serie A for FIFA 22.
4. Gaëtan Laborde (ST, Rennes)
FBL-FRA-LIGUE1-NANCY-BORDEAUX / JEAN-CHRISTOPHE VERHAEGEN/GettyImages
Laborde has had quite the year for Rennes in the Ligue 1, currently sitting fourth in the league and netting himself nine goals, which is good enough for third-best in the league. In FIFA, he may not get much attention, but he's bagged two in-forms and a POTM award, which is a solid Striker for Ligue 1 teams. a Headliners card would be 87 or 88 rated, and the ability to be upgraded would be very nice.
5. Bukayo Saka (RM, Arsenal)
Norwich City v Arsenal - Premier League / Harriet Lander/GettyImages
Arsenal were almost guaranteed a Headliners card in the promo with their performances this season in the Premier League, and they got one in goal with Aaron Ramsdale. However, who's to say none of their other players deserve one. Saka has been great for the Gunners, and he can be in line for a Headliners card of his own. He does have two in-forms in the game currently, which would make his Headliners card an 87-rated RM. While he only has three-star skill moves and weak foot, Saka is still a solid wide midfielder. Look out for another Arsenal card in Headliners Team 2, if not Saka then Emile Smith Rowe.