FIFA
FIFA 22 Road to the Knockouts Team 2 Predictions: 5 Players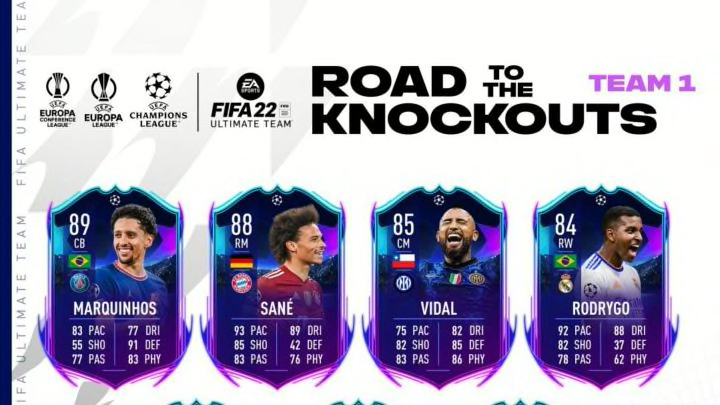 Photo by EA Sports
FIFA's newest promotion, Road to the Knockouts, is out and it is time to take a look at some players who could potentially make it into the second team that will be available very soon.
The Road to the Knockouts is a promotion centered around players participating across all of the European competitions for this season. This includes UEFA Champions League, Europa League, and Europa Conference League.
FIFA 22 Road to the Knockouts Team 2 Predictions: 5 Players
1.

Mohamed Salah
Atletico Madrid v Liverpool FC: Group B - UEFA Champions League / Quality Sport Images/GettyImages
With an idea of having a big name in Team 2, no name is as big in the world of soccer right now as Mohamed Salah. Salah has been one of the most on form players in the world and continues to show why he is Liverpool's main man up top.
2.

Ousmane Dembele
FC Barcelona v Juventus - Joan Gamper Trophy / Quality Sport Images/GettyImages
Dembele is a fan-favorite every year in FIFA, so expect EA to release this card in either this promotion or one soon to come. The French talent has five star skills and weak foot. He would be a mainstay in a lot of teams.
3.

Mislav Orsic
KRC Genk v Dinamo Zagreb - UEFA Europa League Group Stage / BSR Agency/GettyImages
The Dinamo Zagreb attacking machine, Mislav Orsic provides a variety of skills to the table with a good mix of pace, shooting, and dribbling with a nice RTTK upgrade.
4.

Bruno Guimaraes
Paris Saint-Germain v Olympique Lyonnais - Ligue 1 / John Berry/GettyImages
Bruno Guimaraes is a special young talent for Lyon and would be a great addition for all the players who rock a full Brazilian side in this year's ultimate team.
5.

Tammy Abraham
Tammy Abraham of AS Roma kicks the ball during the Serie A... / Nicolò Campo/GettyImages
Abraham has been a nice addition to the Roma lineup and he would provide a very nice link for a possible Premier League and Serie A hybrid for many people this season.