FIFA 22 Team of the Year Leaked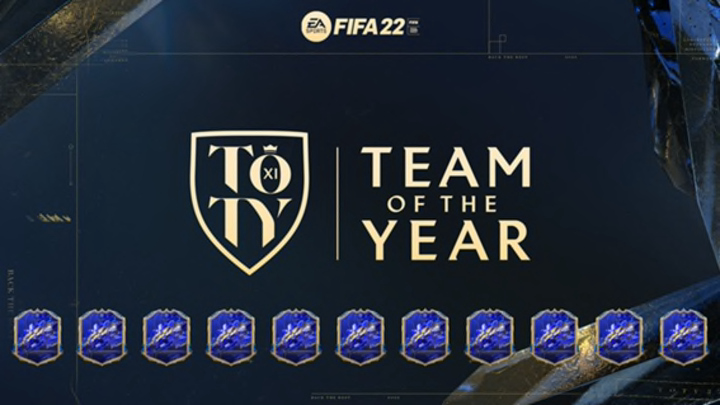 Photo by EA Sports
Voting has officially closed for the Team of the Year in FIFA 22, and allegedly, the full TOTY has already been leaked.
It is assumed that EA Sports will release the first batch of TOTY players this Friday, Jan. 21. The team was leaked by FUTSheriff on Twitter, who has already leaked plenty of correct content this year so far, so it's likely that their leak is indeed correct. Now the only speculation is which will release first; the defenders, midfielders, or attackers.
Warning: if you don't want to know the full squad, turn back now.
FIFA 22 Team of the Year Leaked
The following players have been leaked to be involved in TOTY for FIFA 22.
TOTY Defenders
Gianluigi Donnarumma (GK, PSG
Achraf Hakimi (RB, PSG)
Marquinhos (CB, PSG
Ruben Dias (CB, Manchester City)
Joao Cancelo (RB/LB, Manchester City)
The defense was a contentious one during the TOTY voting stage, with some arguing Trent Alexander-Arnold's inclusion or Antonio Rudiger's inclusion in the squad, but this would still be a solid defense that you can also get on chemistry. With the perfect link between Cancelo and Dias, as well as the strong links for the three PSG players, chemistry would be easy to get for a full TOTY defense if you have the funds to get them all.
TOTY Midfielders
N'Golo Kante (CDM, Chelsea)
Jorginho (CM, Chelsea
Kevin De Bruyne (CM, Manchester City)
In the midfield, some would be surprised not to see any of the Bayern players in the middle, but last year's Champions League final did showcase three of the best midfielders not just in the Premier League, but in the world. With Kante and Jorginho's performances for Chelsea and their respective international sides, as well as De Bruyne's continued reign of playmaking prowess for Manchester City, it is just as hard to argue that these three don't deserve a spot.
TOTY Attackers
Robert Lewandowski (ST, Bayern Munich)
Lionel Messi (RW, PSG)
Kylian Mbappe (ST, PSG)
Now this is where the TOTY gets very contentious. Lewandowski was a sure lock for TOTY, and even though some argued against it, Messi's Ballon d'Or win locked him a spot as well, despite not winning many trophies for Barcelona and his play for PSG so far. However, there were four names in particular that were argued for the third spot: Mbappe, Cristiano Ronaldo, Mohamed Salah, and Karim Benzema. All four deserve a spot in TOTY, but the argument was which player deserved it more.
This surely means that Salah, Benzema and Ronaldo should battle it out for 12th man voting once the TOTY is officially revealed, but maybe EA Sports will surprise us.