Fortnite Chapter 4 Season 2 Map: New POIs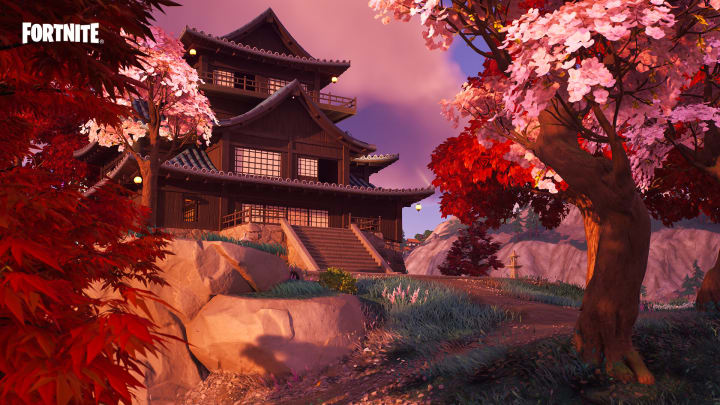 Fortnite MEGA features four new POIs. / Epic Games
Fortnite Chapter 4 Season 2 just dropped with four new POIs on the southeast portion of the map.
Every Fortnite season usually includes an update to the map that reflects the theme of the season. For Chapter 4 Season 1, the entire map transformed into a medieval setting with stone castles and open pastures.
Chapter 4 Season 2 brings a cyberpunk aesthetic to the Battle Royale. Modeled after Japanese locations, the new POIs feature tall skyscrapers, bright lights, and cherry blossom trees to transport players into a futuristic, foreign setting.
Here's a breakdown of the new POIs in Fortnite MEGA.
Fortnite Chapter 4 Season 2 Map: New POIs
MEGA City
MEGA City / Epic Games
MEGA City is the focal point of the new POIs in Chapter 4 Season 2. The Tokyo-inspired POI features billboards, tall buildings, and a new Boss protecting a vault loaded with mythic weapons.
The POI also includes neon grind rails that connect the main buildings. Players can jump onto the rails and skate around the large area to escape enemies or loot faster. The urban landscape closely resembles Tilted Towers and will certainly be the hot spot moving forward.
Steamy Springs
Steamy Springs / Epic Games
Combining the names of iconic POIs, Steamy Stacks and Salty Springs, Steamy Springs offers a refuge from the craziness of MEGA City. Located on the outskirts of the city, Steamy Springs is full of serene houses and cherry blossom trees.
The spot provides easy rotates into MEGA City or Kenjutsu Crossing through its surrounding water and bridges.
Kenjutsu Crossing
Kenjutsu Crossing / Epic Games
At the very bottom of the new map, Kenjutsu Crossing features beautiful Japanese temples to explore. The focal point is a large dojo with seemingly endless floors and rooms to loot.
The layout resembles the unnamed Mansion POI from Chapter 1 Season 4.
Knotty Nets
All four POIs. / Epic Games
Knotty Nets is a fairly basic POI. The small area mostly consists of more Japanese-inspired houses along hilly terrain. Surrounded by water, Knotty Nets will be a great spot to hold if the final circle pulls to the island POI.
The island will also offer players ample fishing spots to collect Floppers, Shield Fish, and maybe even some rare weapons.