Fortnite Chapter 4 Season 3 Map: New POIs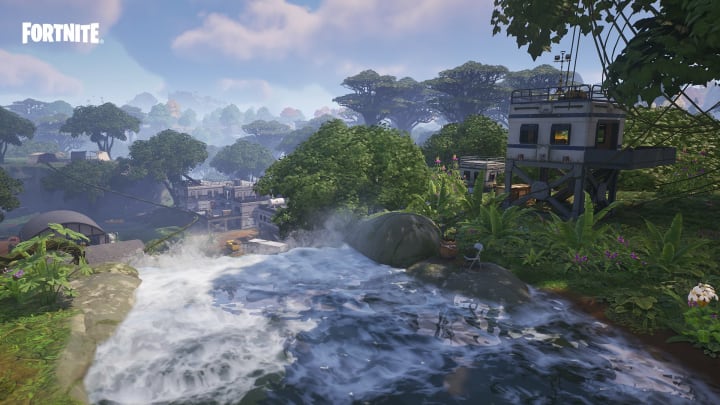 Fortnite Chapter 4 Season 3 contains three new POIs. / Epic Games
The Fortnite Chapter 4 Season 3 map contains three new POIs that transform the Battle Royale into a jungle.
Fortnite WILDS has taken over Battle Royale and Zero Build, bringing a new Battle Pass, weapons, and Reality Augments to the game. There is also an updated map with some much-needed changes to the medieval biome, and even a new biome for players to explore.
Here's a breakdown of the new POIS in Fortnite Chapter 4 Season 3.
Fortnite Chapter 4 Season 3 Map: New POIs
Rumble Ruins
Fortnite Rumble Ruins. / Epic Games
Rumble Ruins is the main POI in Fortnite WILDS. The POI resides in the center of the map, right where Anvil Square once was. A lot of open terrain encompasses the large area, with not many spots to take cover besides the temple.
The temple consists of multiple floors with loot scattered across the entire building. The temple is the perfect spot to gather brick materials, and you can even make an offering to the powers above...if you have the right item.
Shady Stilts
Fortnite Shady Stilts / Epic Games
Shady Stilts is mostly made up of small huts across uneven terrain. If you are exploring the cliffs in Zero Build, the only safe way down is by jumping on a Hop Flower. The new flower will let you fall from any height without taking fall damage.
The POI also contains a Capture Point right in front of a lake surrounding even more abandoned houses. Get free loot and heals by Capturing the Flag, but enemies will be able to see you from pretty much every angle.
Creeky Compound
The full map, including Creeky Compound, for Fortnite WILDS. / Epic Games
Creeky Compound sits between the other two new POIs, southeast of The Citadel. The jungle rages throughout the POI, surrounded by a lake and industrial-style buildings.
Grind Vines, the new WILDS version of Grind Rails, can be found throughout the POI, perfect for quick travel through the steep terrain. There is also a Job Board (formerly known as a Bounty Board) to easily mark a nearby team for some extra Bars.