Fortnite Island Games: All Quests and Rewards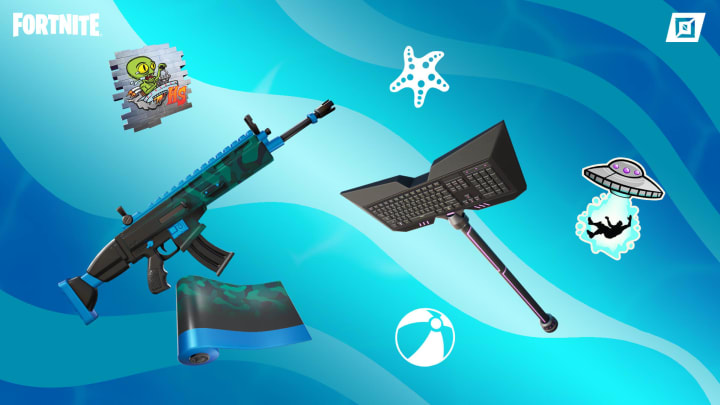 Image courtesy of Epic Games
Fans of Fortnite Creative Mode have a new batch of quests to get stuck into thanks to the Fortnite Island Games.
Running from Aug. 31 to Sept. 8, players can take part in the Fortnite Island Games limited-time modes (LTM). These Creative LTMs each offer a set of challenges which players can complete for a variety of rewards and XP. Here are the modes that will be featured in the Island Games:
Red vs Blue Rumble
Red vs Blue Lava
Prison Breakout
Finest's Realistic (2v2)
Wildlands
Each LTM will offer three quests for players to complete, earning rewards such as the On the Rise Emoticon, the Drooly Spray, a Wavebreaker weapon wrap, and the Querty Axe.
Fortnite Island Games All Quests and Rewards
There are a total of 15 quests that players can complete, with three additional rewards to unlock as players complete a certain number of quests. Here's a list of all quests and rewards in the Fortnite Island Games:
Complete Island Games Quests (5) – On the Rise Emoticon
Complete Island Games Quests (7) – Wavebreaker Wrap
Complete Island Games Quests (9) – Qwerty Axe Harvesting Tool
Red vs Blue Rumble
Deal damage with Shotguns or Sniper Rifles in Red vs Blue Rumble [5500] - 20,000 XP
Buy Legendary weapons from vending machines in Red vs Blue Rumble [6] - 30,000 XP
Get eliminations in Red vs Blue Rumble [50] - Drooly Spray
Prison Breakout
Buy weapons of Epic rarity or higher in Prison Breakout [5] - 20,000 XP
Get eliminations in Prison Breakout [25] - 20,000 XP
Deal damage while inside a "Prevalent" sedan in Prison Breakout [1500] - 30,000 XP
Finest's Realistic (2v2)
Assist teammates with eliminations in Finest's 2v2 [30] - 20,000 XP
Restore Health or Shield in Finest's 2v2 [750] - 20,000 XP
Deal damage from above in Finest's 2v2 [2500] - Beach Ball Banner Icon
Red vs Blue Lava
Deal headshot damage in Red vs Blue Lava [2500] - 20,000 XP
Deal damage with SMGs or Pistols in Red vs Blue Lava [5000] - 20,000 XP
Destroy enemy structures in Red vs Blue Lava [200] - 30,000 XP
Wildlands Survival
Hunt wildlife in Wildlands Survival [30] - 20,000 XP
Search containers, coolers, fridges or tool boxes in Wildlands Survival [25] - 30,000 XP
Catch Zero Point fish or Vendetta Flppers from fishing in Wildlands Survival [10] - Starfish Banner Icon