Fortnite
Fortnite Leaks Hint at Potential WandaVision Collaboration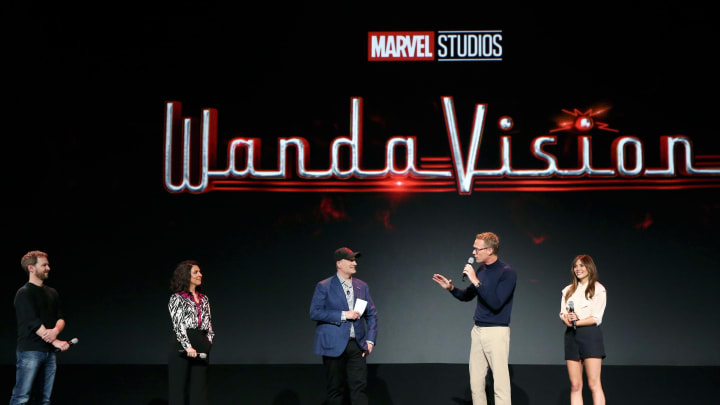 Disney+ Showcase Presentation At D23 Expo Friday, August 23 / Jesse Grant/Getty Images
A Fortnite x WandaVision crossover event has been potentially teased, according to a recent datamine leak.
This would hardly be the first time that Fortnite has teamed up with Marvel to bring new skins and features to the game. Season 5 has seen Marvel characters peppered throughout - including appearances from Black Panther and Captain Marvel.
The Island has seen a lot of collaborations so far this season - including Tron Legacy, The Mandalorian, and even G.I. Joe's very own Snake Eyes. These collaborations provide an added level of excitement to the game and fans are always wondering what's coming next.
Fortnite Leaks Hint at Potential WandaVision Collaboration
One popular theory is that WandaVision is set to grace The Island next with characters Wanda Maximoff aka Scarlett Witch, and Vision. And recent leaks certainly seem to support this theory.
After the v15.40 patch update, data miners found new portals: Kepler, and Skirmish. Kepler appears to refer to a male skin, while Skirmish seems to contain a male and female skin set. This has led to speculation that Skirmish could be Wanda and Vision.
According to one data miner, ShiinaBR, there are apparently three skins and cosmetics sets called ToneTrop, AcutePanic, and BikeCatch. One of which is believed to contain the Wanda and Vision - of which fans believe believe belong to one of these packs.
There is a theory that ToneTrip is in reference to WandaVision's change of tone in each episode as they transition through the decades. AcutePanic is believed to be the other potential pack, as it could be referring to Wanda's own panic as her fake reality starts to fall apart. But if WandVision is the next collaboration, then what skins will they use? Classic comic book, Marvel Cinematic Universe, or even an outfit from the show itself?
At the moment however these are still just theories. No one knows for sure yet. We'll just have to rely on leaks until Epic Games confirms or denies. But, if Fortnite did team up with Marvel to create WandaVision in-game, then it would surely be one of their most ambitions collaborations yet.