Galarian Mr Mime Research Tasks Announced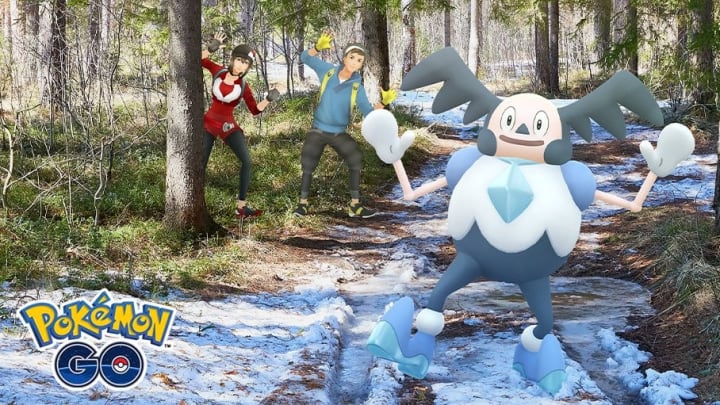 Galarian Mr Mime makes its debut in Pokémon GO, bringing some ticketed Special Research Tasks with it. / Photo by Niantic Labs
Galarian Mr Mime Research Tasks is what you'll have to complete for the ticketed event. Here's what you can expect from the Research Tasks and how to get in on it.
Galarian Mr Mime Research Tasks Announced
The research will be available starting 10 a.m. Dec. 19 until 8 p.m. Dec. 20. The ticket will cost you $8 and will give you rewards based around Galarian Mr. Mime and its evolution, Mr. Rime. Tickets will go on sale until 6 p.m. on December 20. You'll have to open the app during the event time to claim the Research, but once you've got it you can play it anytime.
The details of the specific Research Tasks have yet to be revealed, but here's what you can get from the event. According to Niantic, a ticket will get you the following:
You'll be able to access a new Special Research line featuring an encounter with a Galarian Mr. Mime—its first appearance in Pokémon GO! You'll also be able to earn enough Mr. Mime Candy by the end of the Special Research story to evolve your Galarian Mr. Mime into a Mr. Rime!
You'll earn a special event medal.
Complete Special Research tasks that lead to encounters with Pokémon such as Alolan Vulpix, Jigglypuff, Jynx, Whismur, Chimecho, and Snorunt.
You'll earn a brand-new avatar pose inspired by Mr. Mime.
Completing Special Research will earn you three Incense, three Rare Candies, 30 Ultra Balls, three Premium Battle Passes, one Poffin, two Glacial Lure Modules, three Super Incubators, and three Star Pieces.
Exclusive Field Research tasks will lead to encounters with Jynx, Lapras, Woobat, and Cubchoo.
Most likely, the tasks will involve you catching Ice or Psychic type Pokémon and making good throws along the way. Niantic promises that you'll have enough Candy to evolve a Mr. Rime, so you can expect numerous Galarian Mr. Mime encounters.
Players who don't opt for a ticket will also enjoy some bonuses. Incense will last for three hours and be more effective at getting Pokémon. You'll find Pokémon like Jynx, Swinub, Spoink, Woobat, Cubchoo and more from December 18 to December 21. Shiny Cubchoo will also be available during the event.