Top Games
GTA Online: The Criminal Enterprises Announced for July 26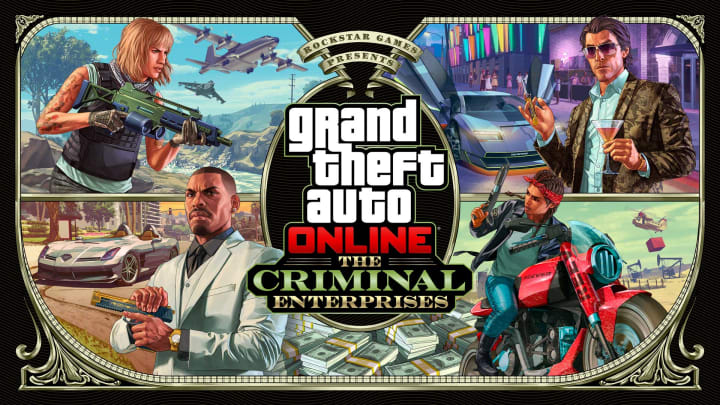 The Criminal Enterprises update for GTA Online will launch on July 26, 2022. / Image courtesy of Rockstar Games
The Criminal Enterprises update for GTA Online will launch on July 26, 2022, Rockstar Games announced Thursday.
Being that this is set to be the first major content update for GTA Online since The Contract was released in December 2021, there's certainly plenty to be excited for. Here's a breakdown of everything you need to know about The Criminal Enterprises update for GTA Online.
GTA Online: The Criminal Enterprises: Everything You Need to Know
The backdrop of the new update is as follows: the Southern San Andreas economy is in a crisis, Executives, Bikers, Nightclub Owners and Gunrunners are continuing to stay afloat, and the IAA is suspecting the corrupt Duggan petrochemical family of rigging the system in their favor.
Ultimately, the biggest draw of The Criminal Enterprises is that it focuses of improving upon many existing systems that have a bit forgotten about in GTA Online for some time.
The biggest points of this include significant expansions to business prospects for Criminal Careers and new, elaborate Contact Missions for players operating as sworn-in agents for the IAA.
All Business activities — including Sell Missions — will be available to play in private (Invite Only, Crew, and Friends) sessions.
Those who own an Executive Office will notice a new staff manager, Lupe, who can source additional Special Cargo. Executives will also have a new side gig available, where a shipment of Special Cargo will arrive daily outside their Warehouses, ready for delivery to the docks. Finally, two new sources of Special Cargo will also be added to the mix of Source Missions, increasing the variety of missions available to Executives.
For Bikers, clubhouses with the Custom Bike Shop are getting a free upgrade where Motorcycle Club (MC) Presidents will be able to modify clients' bikes and deliver them to customers for GTA$ and RP. Bikers will also be able to complete two new Clubhouse Contracts, which are said to be posted on the meeting room wall at the Clubhouse. Lastly, a new Bar Resupply mission will be added for Bikers looking to earn a little extra income for their MC.
Kicking things off for Gunrunners is the ability to take a daily delivery to a designated Ammu-Nation store for an additional source of revenue. When stocking their Bunkers, Gunrunners will also come across two new Resupply Missions. Lastly, Gunrunners will also be able to call Agent 14 from the road to increase their research progress.
In the new update, Nightclub owners can contact Yohan to take on missions to source Goods for their Nightclub Warehouse or call Tony to launch Club Management missions, with two new ones said to have been added to the roster. Finally, inside their clubs, Nightclub owners will be able to eject troublemakers and chaperone passed-out VIPs to safe locations off-site.
On the Contact Missions side of things, IAA Agent ULP invites 1-4 sworn-in players to enlist for the new Operation Paper Trail to investigate the Duggans' possible role in the spiraling oil prices.
Aside from the new action, the update is also said to be bringing with it a number of new vehicles, including additional ones available for modifications at Benny's Original Motor Works, two new vehicles available with Imani Tech, new Tuners-class vehicles and expanded customization options for several older vehicles.
In terms of weapons, at least two new ones are expected to be added, as seen in the DLC's trailer.
Finally, the following gameplay and experience improvements are said to be included in the update:
The effectiveness of homing missiles and countermeasures on the Pegassi Oppressor Mk II will be reduced.
A more convenient way to access Snacks and Body Armor will be introduced.
Payouts for all Races and Adversary Modes will be increased.
Payouts for original heists and The Doomsday Heist will be increased.
Daily pay for Associates, Bodyguards and MC Club members will be increased.