Top Games
'Help Out Timmy D's Donuts' NBA 2K22 Quest Guide: How to Complete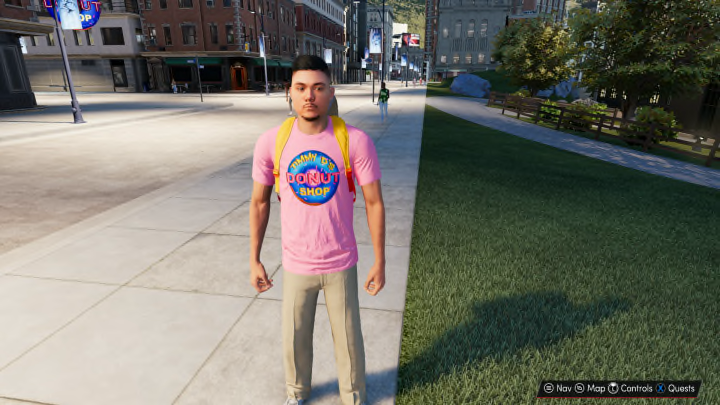 Here's a breakdown of how to complete the "Help Out Timmy D's Donuts" Side Quest in NBA 2K22 MyCareer on Next Gen. / Photo courtesy of Ralston Dacanay, 2K
In NBA 2K22 MyCareer on Next Gen, completing the Timmy D's Donuts side missions are a surefire way to score some easy MVP Points, Fans, Corporate Personal Brand points and Season Level XP.
For those on PlayStation 5 and Xbox Series X|S, here's a breakdown of how to complete the "Help Out Timmy D's Donuts" Side Quest in NBA 2K22 MyCareer on Next Gen.
'Help Out Timmy D's Donuts' NBA 2K22 Quest Guide: How to Complete
Shortly after players get drafted into the NBA, the 'Help Out Timmy D's Donuts' quests are among the ones that pop up daily in the City (e.g. Gold Medal Pedal and Junior Photo Challenges) that help out in the Personal Brand department.
For the Timmy D's Donuts one, it will direct you to meet up with one of the employees of the shop by the North Side Knights park. After talking with the guy with the icon over their head, they'll direct you to dance while wearing their shop's T-Shirt, or simply take a selfie with them.
To dance for 60 seconds, simply hold the Left Trigger and flick the Right Stick towards an emote. For those who haven't bought a standing dance emote, although the simple "Hello" peace sign isn't technically a dance, it works nonetheless for the quest if you spam it a bunch of times.
To take a selfie with the guy, open your phone in-game by hitting left on the D-Pad and then open the Camera app. Next, press RB/R1 to change it to selfie mode and rotate the camera so it is facing your MyPlayer and the guy. Lastly, hit the "Take Photo" button to snap a picture and save the photo to complete the task.
For more on NBA 2K22, feel free to check out our guides on the "You Gotta Start Somewhere See and Be Seen" and "Meet the Designers" fashion City quests