Top Games
NBA 2K22 'Meet the Designers' Quest Guide: How to Complete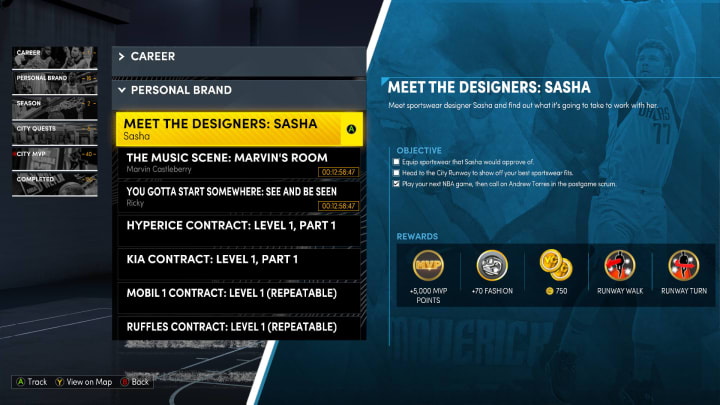 Here's how to complete the "Meet the Designers" quest line in NBA 2K22 MyCareer on Next Gen. / Phot courtesy of Ralston Dacanay, 2K
The "Meet the Designers" questline in NBA 2K22 is one that many players are wondering how to complete at the moment as they try to progress through the title's new open-world, RPG-esque MyCareer story for the first time.
As players are building hype around their Personal Brands thanks to their play on the court, off it, it can be tough to figure out how to complete some of the more vague objectives. For those tasked with putting on "something that'll get the hypebeasts talking," or equipping "sportswear that Sasha would approve of," here's how to complete the Meet the Designers quest line in NBA 2K22 MyCareer on Next Gen.
NBA 2K22 'Meet the Designers' Quest Guide: How to Complete
Like other MyCareer Personal Brand tasks in the game, the Meet the Designers isn't bugged — it's just specific with its requirements.
There are four different NPCs that are a part of the Meet the Designers quest depending on which City Affiliation your MyPlayer is connected to: Carlos, Sasha, Sarah and Apollo.
For three of the four, the way to appease their requests is pretty straightforward as you simply need to buy and equip a piece a clothing that has an icon in their thumbnail that meet's their requirement.
Carlos: Free Spirit Megaphone Icon
Sasha: NBA Icon
Apollo: Corporate Suit Icon
With Sarah, she's more of a unique case as you can simply wear clothing from your City Affiliation's store.
After throwing on the clothing item, simply do the Fashion Runway walk in the City, and answer a question from fashion reporter Andrew Torres after an NBA game to complete the quest.
Upon finishing the quest, players will receive a mixture of MVP Points, Fashion XP, VC and some Runway animations.