Hoenn Challenge Pokemon GO Tasks and Rewards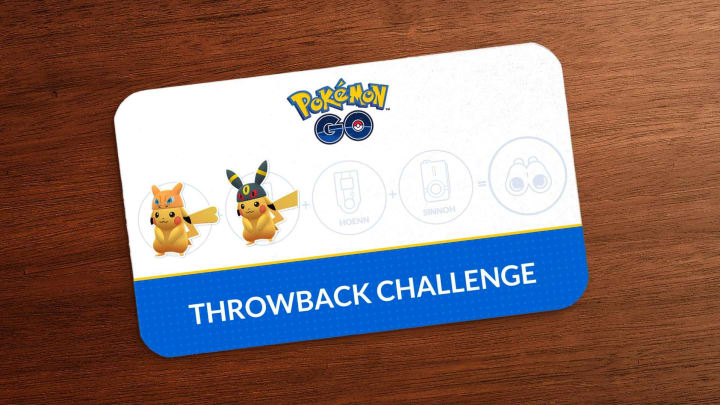 Hoenn Challenge Pokemon GO tasks and rewards explained. / Photo courtesy of Niantic Labs
The Hoenn Challenge Pokemon GO tasks and rewards went live this week. As part of the Pokemon GO Throwback Challenges, the Hoenn region is center stage for the next week. The past two weeks focused on the Kanto and Johto regions.
Players will have until 1 PM on May 22 to complete the Hoenn Throwback Challenge before the next one, Sinnoh, begins. If you complete all four regions' challenges there will be special rewards.
Hoenn Challenge Pokemon GO Tasks and Rewards Explained
A pre reward of 5 Rare Candy will be available because of the previous week's mistake.
Hoenn Tasks Step 1
Catch 3 Grass, Water, or Fire-type Pokemon - 10 Pokeballs
Claim reward - 5 Rare Candy
Catch a Rock-type Pokemon - 500 Stardust
Rewards: 1 Pinap Berry, Nosepass Encounter, and 2 Razz Berries
Hoenn Tasks Step 2
Power Up Pokemon - 5 Pinap Berries
Make 3 Nice Throws - Lairon encounter
Catch a Fighting-type Pokemon - 500 Stardust
Rewards: 1 Razz Berry, Hariyama Encounter, and 2 Pinap Berries
Hoenn Tasks Step 3
Send a Gift to a Friend - 1 Incense
Make 3 Curveball Throws - Wailmer Encounter
Catch an Electric-type Pokemon - 500 Stardust
Rewards: 1 Pinap Berry, Manectric Encounter, and 2 Razz Berries
Hoenn Tasks Step 4
Earn a Candy walking with your Buddy - Trapinch Encounter
Catch 3 Pokemon with Weather Boost - Bagon Encounter
Catch a Fire-type Pokemon - 500 Stardust
Rewards: 1 Razz Berry, Camerupt Encounter, and 2 Pinap Berries
Hoenn Tasks Step 5
Make 3 Great Throws - Shedinja Encounter
Power Up Pokemon 3 times - 10 Great Balls
Catch a Normal-type Pokemon - 500 Stardust
Rewards: 1 Pinap Berry, Slakoth encounter, and 2 Razz Berries
Hoenn Tasks Step 6
Catch a Water, Electric, or Bug-type Pokemon - 10 Ultra Balls
Battle another trainer - Absol Encounter
Catch a Flying-type Pokemon - 500 Stardust
Rewards: 1 Razz Berry, Swellow Encounter, and 2 Pinap Berries
Hoenn Tasks Step 7
Catch a Ghost-type Pokemon - 5 Revives
Give your Buddy 3 Treats - 1x Charged TM
Catch a Psychic-type Pokemon - 500 Stardust
Rewards: 1 Pinap Berry, Claydol Encounter, and 2 Razz Berries
Hoenn Tasks Step 8
Take a Snapshot of a Water-type Pokemon - Clamperl Encounter
Evolve a Pokemon - 1 Star Piece
Catch a Water-type Pokemon - 500 Stardust
Rewards: 1 Razz Berry, Sealeo Encounter, and 2 Pinap Berries
Hoenn Tasks Step 9
Claim Reward (x3) - 3,000 XP
Rewards: 10 Rare Candy and Groudon Encounter