How to Get a Good Match Rating in WWE 2K22 MyGM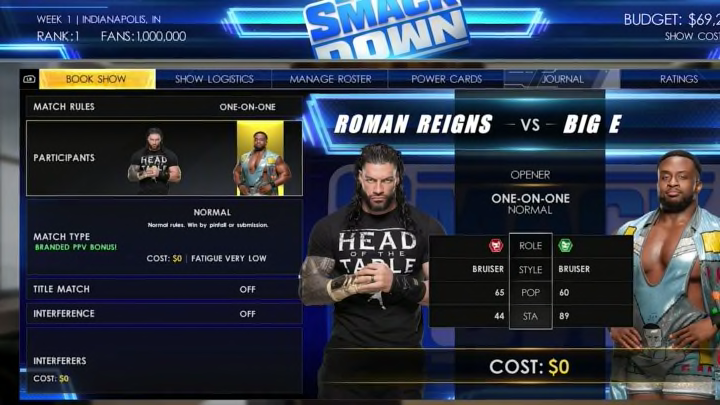 WWE 2K22 / Photo Courtesy of 2K Sports
For the first time in over a decade, a WWE video game finally has brought back the iconic GM mode. In WWE 2K22's MyGM, you take control over a GM of either of the top four WWE brands (Raw, Smackdown, NXT and NXT UK) and compete against an AI GM over a span of weeks, trying to produce the better show using your drafted superstars.
One of the key parts of producing a top-tier show is your match selection. It's important to set up good matches week in and week out to boost your show's ratings, giving you more funds to work with each week to create bigger and brighter matches. Here's what you need to know about how to get a good match rating in WWE 2K22.
How to Get a Good Match Rating in WWE 2K22 MyGM
There are a few things to remember when going for a good match rating and overall show in WWE 2K22 MyGM.
For starters, there are different styles of Superstars in WWE 2K22 MyGM, all fitting into five styles: Bruiser, Cruiser, Giant, Fighter and Specialist. It's important to try and have matches in your show that feature different variants of wrestling styles going against each other. Cruisers and Giants create good storyline matches that will engage the crowd more and boost your match rating, as well as Bruiser vs. Fighter matches. Tag Team matches are also good for doing this, and should be featured at least once per show.
Additionally, different match variants are important to create a good match rating. You can put your superstars into normal, Tables, and even Hell in a Cell matches, as long as you have the budget to afford that match type. The grander the match, the higher the chance of a good match rating. Especially if you keep in account the superstar types participating in the match,
Lastly, using rivalries in matches that are generating high levels of attention by fans will create stronger matches as well. If you have two superstars going against each other and they build up a rivalry, each match they have afterwards will have more hype, meaning higher match rating, up until their rivalry is over.
Keep track of all these week in and week out to produce the best quality matches to boost your funds and beat your opposing GM.