How to Get All Eevee-lutions in Pokemon GO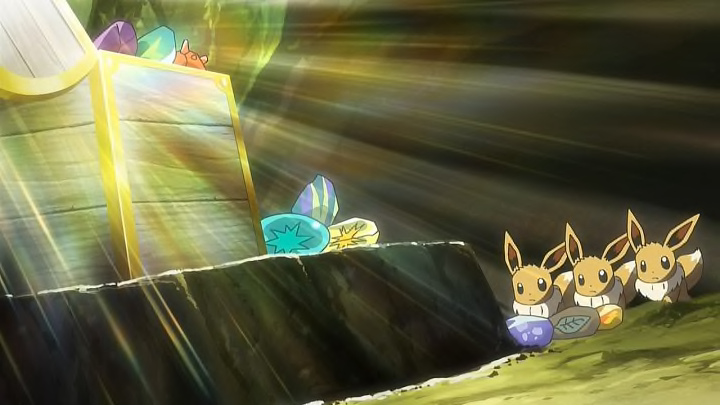 Trainers are interested to know how to get all Eevee-lutions in Pokemon GO. / The Pokemon Company
Trainers are interested to know how to get all Eevee-lutions in Pokemon GO.
Keeping all of Eevee's evolutions in line can be difficult for new trainers — especially those coming from one platform to another. Don't worry, we've got you covered.
Here's how to get all Eevee-lutions in Pokemon GO.
How to Get All Eevee-lutions in Pokemon GO
The first thing trainers can try is the "nickname trick," implemented with the base release of Pokemon GO. This is a one-time deal where trainers can nickname their chosen Eevee with a specific name and have it evolve into its corresponding evolution. We've listed all the names, below.
Vaporeon - Rainer
Flareon - Pyro
Jolteon - Sparky
Espeon - Sakura
Leafeon - Linnea
Umbreon - Tamao
Glaceon - Rea
Sylveon - Kira
Again, this will only work once. Trainers will need to make sure the Eevee they've named is the one they want to evolve into a specific form. Otherwise, we've broken down each set of evolutions into their respective similar categories, below.
Flareon, Jolteon, and Vaporeon
These are the default evolutions. If trainers take no other steps aside from gathering the required 25 candies, Eevee will randomly turn into one of these three forms from the Kanto region.
Espeon and Umbreon
Espeon and Umbreon require a task to be completed: specifically, walking 10 k.m. with the chosen Eevee as the trainer's buddy Pokemon. After a nice long walk, trainers can choose to evolve this Eevee during the daytime or nighttime to have it transform into Espeon or Umbreon, respectively.
Leafeon and Glaceon
Leafeon and Glaceon require proximity to a type of Lure — Mossy and Glacial, respectively. By popping down a Mossy or Glacial Lure and standing within its area of effect, trainers should be able to see the silhouette of a Leafeon or Glaceon depending on the type. Evolving the chosen Eevee while in range of the Lure will result in the corresponding evolution.
Sylveon
Sylveon is a bit more tedious than the others. To evolve Eevee into Sylveon, trainers must earn 70 hearts with that Eevee as their buddy. Typically, they can only earn about 12 hearts a day, meaning it will take at least six days to gather the amount necessary. After this requirement is met, however, Eevee should have no issues evolving into Sylveon.