How to Get Chicharron in Far Cry 6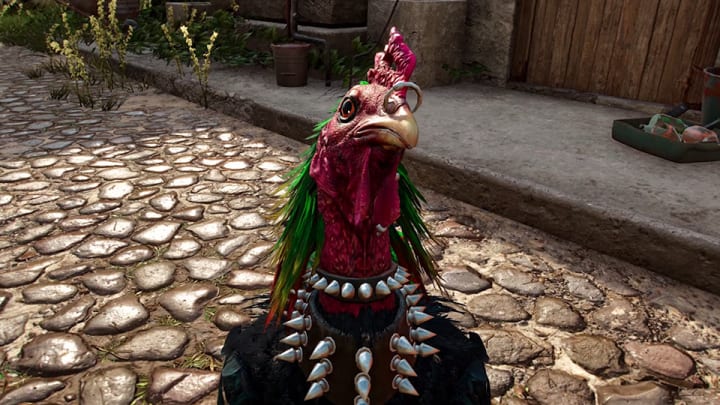 "This punk rooster has all the attitude and ferocity you need to take down Anton's soldiers." / Photo courtesy of Ubisoft
We've put together a simple guide on how to unlock Chicharon the rooster as an Animal Companion in Far Cry 6.
Chicharon is the only bird companion players can unlock as a Combat Amigo in Far Cry 6. Amigos are animals that can assist Dani as she adventures throughout the island nation of Yara and uproots the Castillo fascist regime. There are five Amigos in the base game with an additional two that can be acquired as part of two DLC packs.
In this guide, we're going to go over how to unlock Chicharron in Far Cry 6.
How to Get Chicharron in Far Cry 6
To unlock the fiesty rooster in Far Cry 6, players will need to complete three side quests in Camp Maximas.
After following the story missions until you reach the game's main islands, players will be able to head to a guerilla base called Camp Maximas.
Here, players will be able to grab the first side quest needed to unlock Chicharron called "Man's Best Enemy." Beat this quest by helping the rooster defeat all the guard dogs at its location.
Next, return to Camp Maximas to pick up the next side quest, "Picking Orders." Beat this quest by defeating the hordes of guards to destroy all the files.
Lastly, pick up the last side quest, "Wingman," and accompany Chicharron to do as he pleases by mowing down all enemies in sight.
Chicharron's main ability, "Angry Bird," allows him to slingshot himself at enemies from a distance.
Down the line, Chicharron can unlock additional Amigo abilities such as:
Roid Rage: Chicharron attacks faster and deals double damage when his health is below 70%. (Unlocked once he has killed 12 enemies)
Angrier Bird: Chicharron's Angry Bird attack can knock enemies to the floor. (Unlocked once he has killed 24 enemies while in Roid Rage)
Chicken Feet: During Roid Rage Chicharron is more likely to dodge enemy attacks. (Unlocked once 50 enemies have been knocked down by the Angrier Bird attack)
For more on Far Cry 6, feel free to check out our guides on how to unlock Guapo, Boom Boom and Chorizo.