How to Get Son Heung-min PUBG skin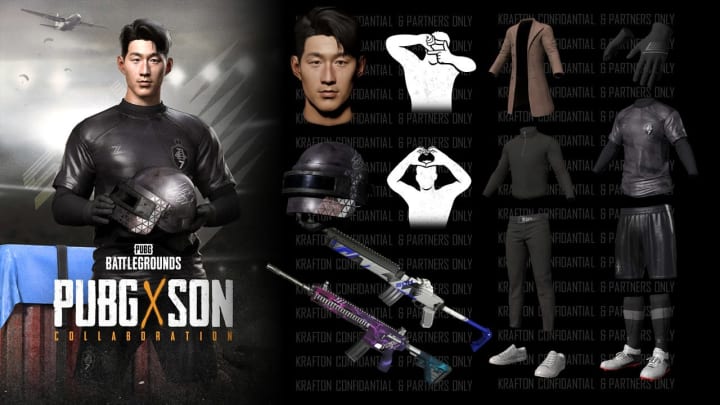 Son Heung-min is soon to be featured in PUBG, here's how to get his skin when it releases. | Photo by PUBG Corp /
It's another pairing between traditional sports athletes and video games, as PLAYERUNKNOWN'S BATTLEGROUNDS will have a collaboration with South Korean footballer, Son Heung-min, for a cosmetic bundle.
How to Get Son Heung-min PUBG skin
Since the official PUBG announcement via Twitter on June 23, coupled with his iconic post-score celebration that happened as he scored a goal against Arsenal in the Premier League. The darling of Tottenham Hotspurs is also one of South Korea's pride as he won the 2018 Asian Games against Japan, which granted him exceptions from a mandatory 21-month military service. The collaboration between the two comes as no surprise as the PUBG Corp is Korean-owned as well.
Popular data miner on Twitter, PlayerIGN, leaked what's to come when the collaboration with PUBG and Son Heung-Min releases at a later time.
The cosmetic bundle with the Tottenham Hotspur winger will feature a signed helmet, two weapon skins, two emotes, two outfits, and his face as well.
Though it has been announced officially that he will be available to use in the game, it hasn't been revealed yet by the PUBG Corp when his cosmetic set will be released for players in the store.
This collaboration with a popular South Korean figure has not been the first for the game as K-pop girl group, Blackpink, has had a cameo for PUBG Mobile that featured their latest album with more cosmetics for players. That said, PlayerIGN has also added as of July 2, that Blackpink may be featured again as the data miners behind the Twitter account extracted a placeholder plane banner from the game - though there is no confirmation by the PUBG Corp about this.
As to how to get the skin when it comes out, is also unknown, however, it's likely that players will have to go to the in-game store and spend some hard-earned money in order to do so. There isn't a set price point as of the time of writing this story, but it's likely there will be some announcement around Patch 12.2.