How to Get the Goat Simulator Skin in Fortnite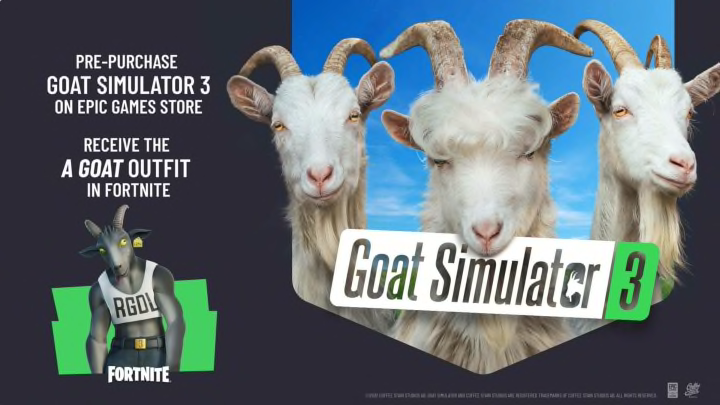 Epic Games
Goat Simulator fans rejoice! On Sept 29 it was revealed that Pilgor, the titular Goat Simulator protagonist, will be causing havoc for players in Fortnite in the form of a new outfit. If you're looking to get this wacky goat skin, don't worry: We've got you covered.
Goat Simulator 3 is the latest entry in the Goat Simulator series, and it will feature the absurdly comedic gameplay that fans have come to expect from the franchise. Goat lovers can live out their goat fantasies in this sandbox farmyard simulator, either on their own or with a herd of up to three friends. Goat Simulator 3 will be packed with various mini-games, wacky quests and a huge selection of goats to play as.
How to Get the Goat Simulator Skin in Fortnite
Goat Simulator fans received a nice surprise when developer Coffee Stain Studios announced that those who purchased Goat Simulator 3 through the Epic Games Store by 11:59 p.m. ET on Sept. 29, 2023, would get the Goat Simulator skin in Fortnite. Once purchased, the skin will appear in your Fortnite locker as long as you purchased it with the same account you use to play Fortnite. The "A Goat" outfit is inspired by series protagonist Pilgor and displays the absurdity that the franchise is known for. This outfit will also become available in Fortnite's Item Shop on Nov. 26 for those who may not want to purchase Goat Simulator 3.
Fans of the comedic simulator can look forward to Goat Simulator 3's release Nov. 17. Fortnite: Paradise has also recently begun and features brand new content for returning and new players to enjoy.