How to Unlock Overwatch League Mercy Skin During June Joust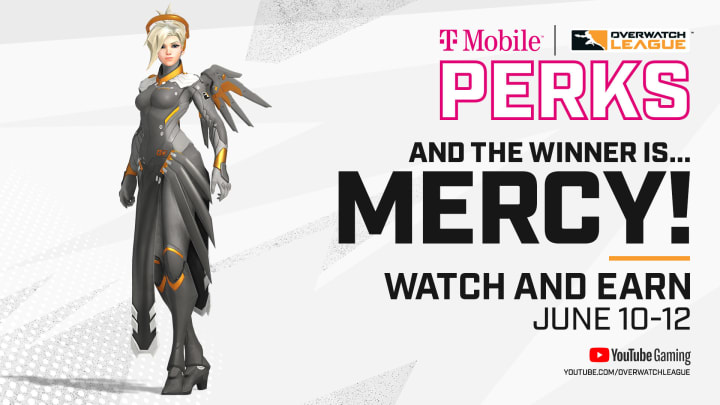 The community voted on Twitter for Mercy to have her exclusive Overwatch League skin for free just by watching June Joust. | Photo by Blizzard /
Overwatch is back again for another tournament, and the community picked Mercy to have her exclusive Overwatch League skin released for free during the June Joust tournament. Fortunately, the way to obtain Mercy's skin is fairly straightforward, only requiring those who want it to just watch Overwatch League.
How to Unlock Overwatch League Mercy Skin During June Joust
With Overwatch League just completing its May Melee tournament, as Shanghai Dragons and San Francisco Shock won in the Asian and North American brackets respectively, another LAN tournament is starting yet again with June Joust.
Celebrating its second tournament of the year, Overwatch League is giving out a free skin for those who watch at least four hours of the June Joust with linked accounts on Battle.net and YouTube, and owning Overwatch, of course. This tournament will feature the community-picked Overwatch League Mercy skin as an incentive for watching the matches.
In order to do so, Overwatch has laid out a simple three-step plan so players can receive rewards at any time during this year as part of the collaboration between T-Mobile and the Overwatch League. Fortunately, players do not need T-Mobile in order to reap the benefits of the rewards.
Assuming players have purchased Overwatch, these are the steps to do so as detailed by Overwatch League's blog post:
Register or login to Battle.net
Link a YouTube account with the Battle.net account
To acquire the Mercy skin, those who have followed the steps need to watch at least four hours of the June Joust, and it will automatically appear within the accounts within 24 hours.
Aside from the Mercy skin, viewers are also able to get League tokens by watching the games live through YouTube, the official site, or through Overwatch League's mobile app. For every one hour watched live, viewers can get five League tokens which can be used to buy team skins and other in-game cosmetics as well.
June Joust will begin on Thursday, June 10, and end on Saturday, June 12, as a double-elimination bracket with teams currently competing in the qualifiers in Hangzhou, China.