Call of Duty
How to Unlock the Kastov 545 in Modern Warfare 2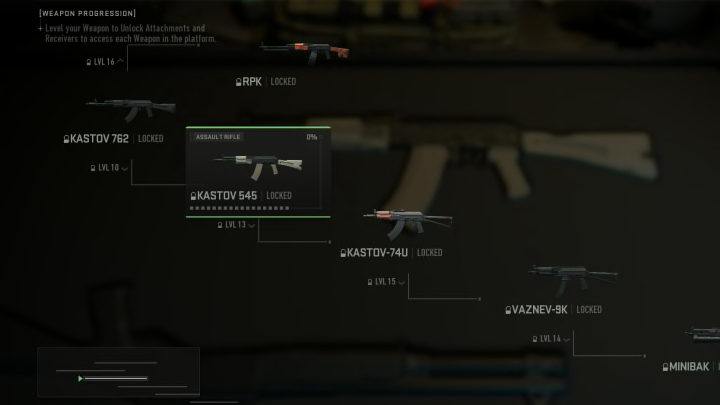 Here's a breakdown of how to unlock the Kastov 545 in Call of Duty: Modern Warfare II. / Activision, screenshot by DBLTAP
Looking up how to unlock the Kastov 545 assault rifle in Call of Duty: Modern Warfare II? Look no further.
In Modern Warfare 2, the Kastov 45 is one of the game's 10 assault rifles at launch, and one of three Kastovia Platform Receivers in the weapon class. By virtue of Infinity Ward streamlining the series' staple weapon unlock system for Modern Warfare 2, it's perhaps no surprise that many are wondering just how to unlock different guns.
Here's a breakdown of how to unlock the Kastov 545 in Call of Duty: Modern Warfare II.
How to Unlock the Kastov 545 in Modern Warfare 2
To unlock the Kastov 545 in Modern Warfare 2, players will need to reach Rank 23 to unlock the Kastov 762 assault rifle, and then get the Kastov 762 to Level 10.
As touched on earlier, this is because MW2 takes weapon manufacturers (e.g. Tempus Armaments) into account and groups their offerings into Weapons Platforms. Although some Weapons Platforms still contain one weapon — such as the RPG-7 — other, more "Gunsmithable" Platforms are said to have three, four or even five different weapons (aka Receivers).
Instead of ranking up, think about ranking across. As in, leveling up each of the Weapon Platforms that can be customized in the Gunsmith.

- Activision
For each new weapon that players unlock, it is highly recommended that you level it up to its Max Level. By doing this, you will get every weapon available at launch in your arsenal in its fully unlocked state, as well as the hundreds of platform-specific and universal-category attachments.
As for the Kastov 545 itself, the AR is described as one that has above-average recoil control and fire rate. It can be fired in full-auto and semi-auto modes.
---
For more on Call of Duty, be sure to check out our other top five lists:
Additionally, feel free to check out our timeline on the history of the Call of Duty franchise!