Call of Duty
IceManIsaac Exposes 'Glitched' Warzone Sniper That One-Shots Chests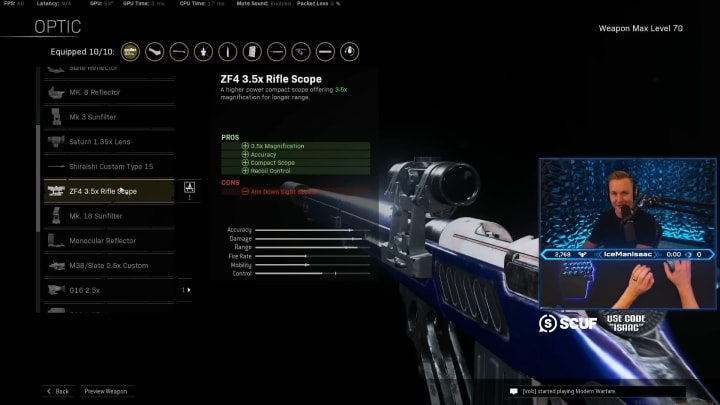 "This is probably going to be patched within the next week, so make sure to enjoy it while you can." / Image courtesy of IceManIsaac, Activision
Content creator IceManIsaac recently posted a video on his YouTube channel revealing what he thinks is a completely unbalanced sniper rifle at the moment in Call of Duty: Warzone Season 4 Reloaded.
As longtime Warzone players probably know, weapon glitches routinely find their way in the game, making for some incredibly overpowered options from time to time. Players notice something's off due to some sort of reverted nerf, the loadout goes viral, the devs fix it with a hotfix, and the cycle repeats.
Breaking it all down in a recent YouTube video eloquently titled, "THIS GUN IS GLITCHED!!! Broken One Shot Sniper Loadout," IceManIsaac showcased how the Vanguard Type 99 is perhaps the weapon that all players should be giving a try in Call of Duty: Warzone Season 4 Reloaded as soon as possible.
Best Type 99 Weapon Loadout Warzone Season 4 Reloaded
"Legitimately, it is broken," IceManIsaac said in the video. "They have patched this in the past and somehow it got reverted. So this isn't YouTube clickbait. Legitimately, this is probably going to be patched within the next week, so make sure to enjoy it while you can. It is allowing for some absolutely insane clips, some quickscoping destruction because it is a one-shot sniper to the chest, which allows you to aim center-mass, get super-easy kills. It is jarring."
Ultimately, as IceManIsaac said, this is almost certainly going to be patched soon as it allows you to snipe players as if you're playing 6v6 multiplayer.
For those looking to use IceManIsaac's Type 99 build, here is his class setup:
Muzzle: MX Silencer
Barrel: Shiraishi 712mm Sniper
Underbarrel: SMLE Pistol Grip
Magazine: 8mm Klauser 5 Round Mags
Ammunition: Lengthened
Optic: SVT-40 PU Scope 3-6X
Rear Grip: Taped Grip
Stock: Removed Stock
Perk 1: Vital
Perk 2: On-Hand
---
For more on Call of Duty, be sure to check out our top five lists:
Additionally, feel free to check out our timeline on the history of the Call of Duty franchise!