Top Games
Jonah Vasquez Perks: Dead By Daylight Reveals New Survivor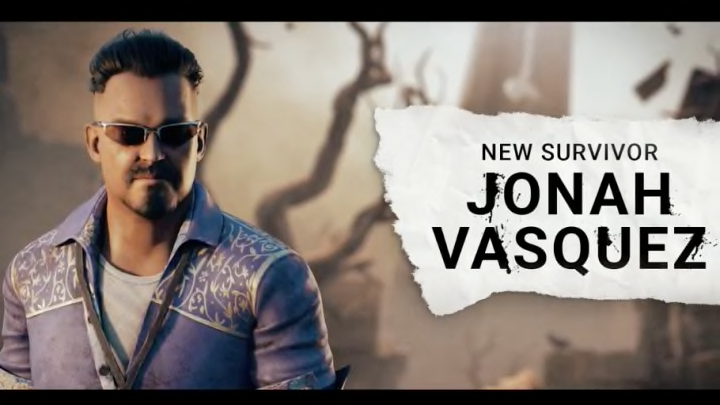 Jonah Vasquez is the newest Survivor added to the upcoming DBD Chapter 6. / Photo Courtesy of Dead By Daylight
Jonah Vasquez is the newest Survivor coming to Dead by Daylight in Chapter six: Portrait of a Murder.
The newest Chapter is coming sometime this month, and players will get to experience playing with his perks and learning more about Vasquez's backstory.
Vasquez is a Mexican-American codebreaker working for the CIA. His research has brought him to a lost cemetery in Chile, where he will be encountering a new DBD Killer The Artist.
Jonah Vasquez Survivor Perks
Playing with Jonah Vasquez will give you the following Perks:
Overcome

Whenever you become injured, you retain the Movement Speed burst for 2 additional seconds.

Overcome causes the  Status Effect for 60/50/40 seconds.

Corrective Action
You start the Trial with 1/2/3 Token(s) and gain a Token each time you succeed at a Great Skill CheckIconHelp skillChecks.png, up to a maximum of 5 Tokens.
Each time another Survivor cooperating with you on the same GeneratorIconHelpLoading generators.png fails a Skill Check, Corrective Action consumes 1 Token, transforming their Failed Skill Check into Good Skill Check instead.
Boon: Exponential
Survivors inside the Boon Totem's range benefit from the following effects:
90/95/100 % bonus to the Recovery speed.
Unlocks the Self-Recovery ability, allowing you to fully recover from the Dying State
You can try out the newest survivor and his perks in the new Eyrie of Crows Map with the DBD Player Test Build. According to the official DBD forum, the Player Test Build is an early build of the final release available through a beta branch of the Steam version of Dead by Daylight. You'll be able to try out both Jonah Vasquez and the new killer, The Artist, using the PTB today, as well as provide feedback to developers on the newest chapter and what bugs to fix ahead of the grand release. To visit the PTB, click here.
Portrait of a Murder is due out this month. It will cost $6.99 on the Microsoft Store, Steam, and Stadia, and $7.99 on consoles (PlayStation, Xbox, and Nintendo Switch).